Since 2012 Advanced Healthcare Materials has been bringing you the latest breakthroughs in biomedical materials science with a strong focus on improving human health, and it will continue to do so in 2018. We therefore have launched virtual issues on five hot topics in the field, where you can access some of our best recent papers free of charge!
No access to our published content yet? Make sure to recommend Advanced Healthcare Materials to your librarian. More information can be found here.
In this feature, we highlight the artwork on the covers of the most recent issue of Advanced Healthcare Materials, and of course the research behind it. You can find the latest issue here. Click on the titles or cover images below to get to the corresponding papers. Also check out our monthly Most Read and our previous cover art feature.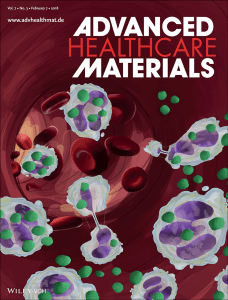 Cell-Based Drug Delivery and Use of Nano-and Microcarriers for Cell Functionalization
by Alexander S. Timin, Maxim M. Litvak, Dmitry A. Gorin, Elena N. Atochina-Vasserman, Dmitriy N. Atochin and Gleb B. Sukhorukov
Gleb B. Sukhorukov and co-workers present a fresh outlook on the advance in the design of cell-based drug vehicles as a biological transporter platform for targeted delivery of different drugs. An overview of the current strategies of cell functionalization by nano- and microcarriers are provided for the first time. Authors also discuss animal models for studying cell assisted drug delivery. The cover image represents cells carrying the nanoparticles across the blood vessel wall to the inflammation site, where therapeutic nanoparticles are then released.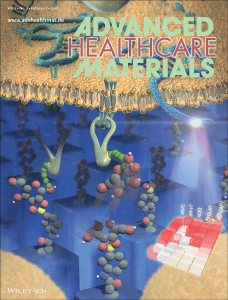 Glycan Stimulation Enables Purification of Prostate Cancer Circulating Tumor Cells on PEDOT NanoVelcro Chips for RNA Biomarker Detection
by Mo-Yuan Shen, Jie-Fu Chen, Chun-Hao Luo, Sangjun Lee, Cheng-Hsuan Li, Yung-Ling Yang, Yu-Han Tsai, Bo-Cheng Ho, Li-Rong Bao, Tien-Jung Lee, Yu Jen Jan, Ya-Zhen Zhu, Shirley Cheng, Felix Y. Feng, Peilin Chen, Shuang Hou, Vatche Agopian, Yu-Sheng Hsiao, Hsian-Rong Tseng, Edwin M. Posadas and Hsiao-hua Yu
Hsiao-hua Yu and co-workers purified circulating tumor cells (CTCs) from blood samples of prostate cancer (PCa) patients. This platform not only captures CTCs with high efficiency and specificity, but also, released these cells gently by a competitive-binding mechanism. The purified CTCs provide well-preserved RNA transcripts for the analysis of the expression level of several PCa-specific RNA biomarkers, which could provide clinical insights into the disease and valuable information for cancer diagnosis and therapeutics.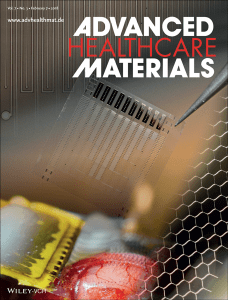 Ultrastretchable Kirigami Bioprobes
by Yusuke Morikawa, Shota Yamagiwa, Hirohito Sawahata, Rika Numano, Kowa Koida, Makoto Ishida and Takeshi Kawano
The most remarkable features of Kirigami are that unstretchable materials can gain stretchability and that its strain force is very small compared to other elastomer-based stretchable materials. These features are suitable for applications related to deformable soft biological samples. In their article, Takeshi Kawano and co-workers propose the ultrastretchable bioprobe device using a 'Kirigami' design and demonstrate the recordings of biological signals in mouse brain and heart.
Interested in more news about Advanced Healthcare Materials? Also check out our monthly Most Read and our previous cover art feature.
We recently have released top-level special issues on biomimetic interfaces in biomedical devices and microphysiological analytic platforms (MAPs): precision organs on chip.
Discover our new virtual issues now too and read selected articles on nanotherapeutics, regenerative medicine, biofabrication, stem cells, and diagnostic devices  for free.