Since 2012 Advanced Healthcare Materials has been bringing you the latest breakthroughs in biomedical materials science with a strong focus on improving human health, and it will continue to do so in 2018. We therefore have launched virtual issues on five hot topics in the field, where you can access some of our best recent papers free of charge!
No access to our published content yet? Make sure to recommend Advanced Healthcare Materials to your librarian. More information can be found here.
In this feature, we highlight the artwork on the covers of the most recent issue of Advanced Healthcare Materials, and of course the research behind it. You can find the latest issue here. Click on the titles or cover images below to get to the corresponding papers. Also check out our monthly Most Read and our previous cover art feature.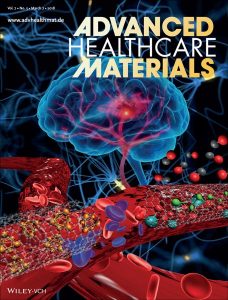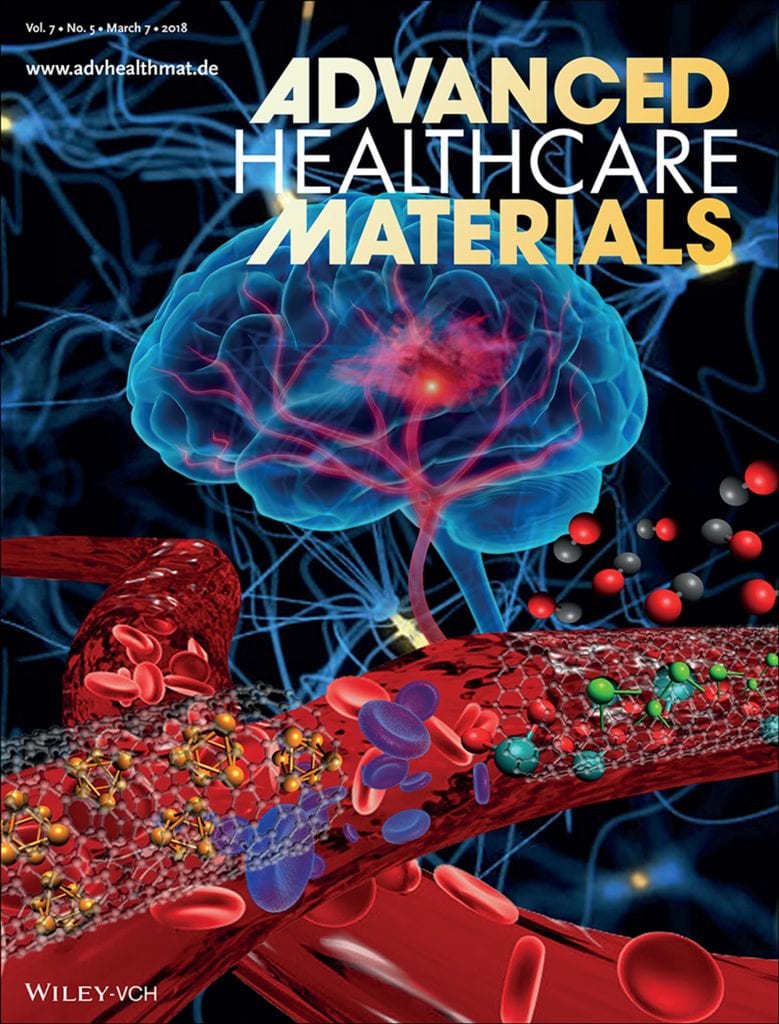 Flexible Modulation of CO-Release Using Various Nuclearity of Metal Carbonyl Clusters on Graphene Oxide for Stroke Remediation
by Mein Jin Tan, Han-Chi Pan, Hui Ru Tan, Jian Wei Chai, Qi Feng Lim, Ten It Wong, Xiaodong Zhou, Zi-Yao Hong, Lun-De Liao and Kien Voon Kong
A facile CO-release material for in-situ vasodilation as a treatment for stroke-related vascular diseases is developed by K.V. Kong, L.D. Liao and co-workers. Utilizing the size dependent adsorption properties of ruthenium carbonyl clusters (Ru-CO) onto graphene oxide (GO), the rate and amount of formation of the CO release-active RuII(CO)2 species can be modulated by a simple mixing procedure. Further modulation of thermal and CO release properties can be achieved via a hybridization of medium- and high- nuclearity of Ru-CO clusters that can provide photo-thermal response for in-situ CO release in a cortical photo-thrombotic ischemia rat model.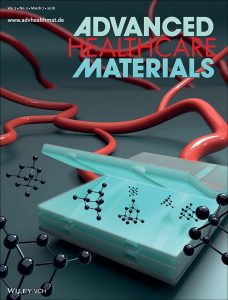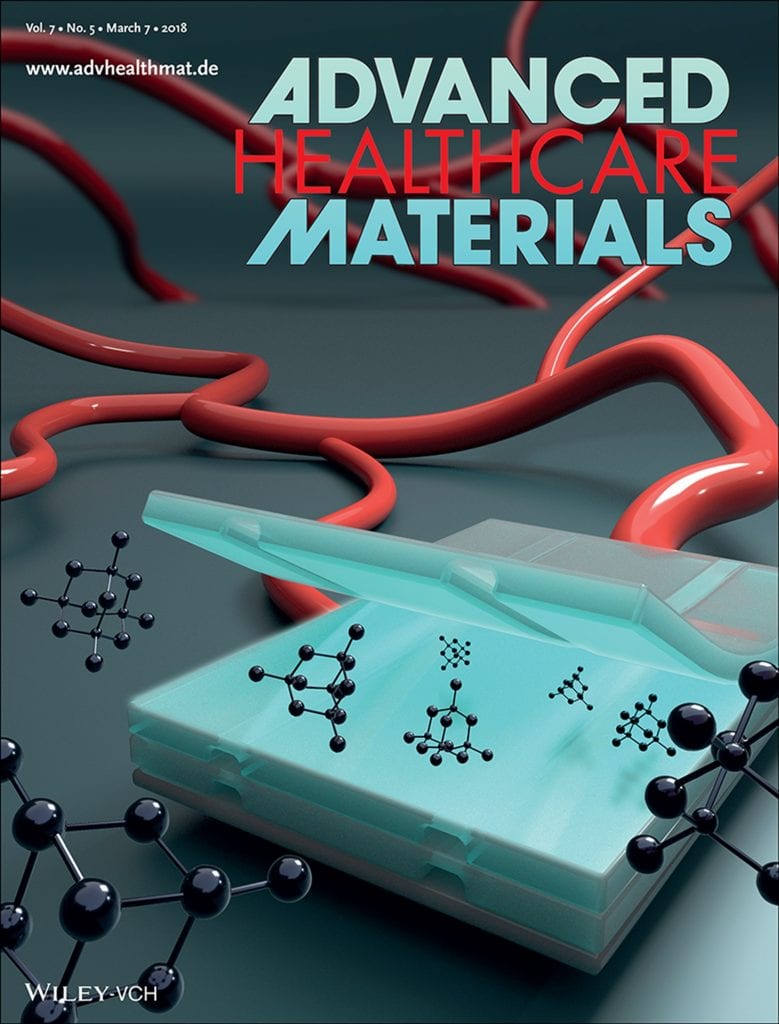 Silicon Carbide Nanoparticles as an Effective Bioadhesive to Bond Collagen Containing Composite Gel Layers for Tissue Engineering Applications
by Rana Attalla, Celine S. N. Ling and Ponnambalam Ravi Selvaganapathy
Ponnambalam Ravi Selvaganapathy and co-workers use a lamination-based planar processing strategy enabled by nanoparticle adhesives to address one of the prominent technical challenges found in the tissue engineering field – the incorporation of perfusable hollow networks for nutrient and waste transport within artificial 3D tissue constructs. Without these vascular-like networks, the cells embedded within the constructs would quickly become necrotic. Silicon Carbide, used as a nanoadhesive, has been shown to be very effective in adhering microstructured layers of biologically important extracellular matrices containing collagen to form perfusable 3D netoworks suitable for growing cells.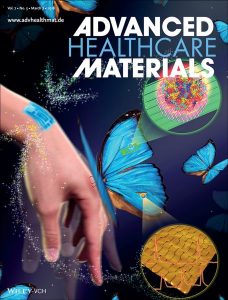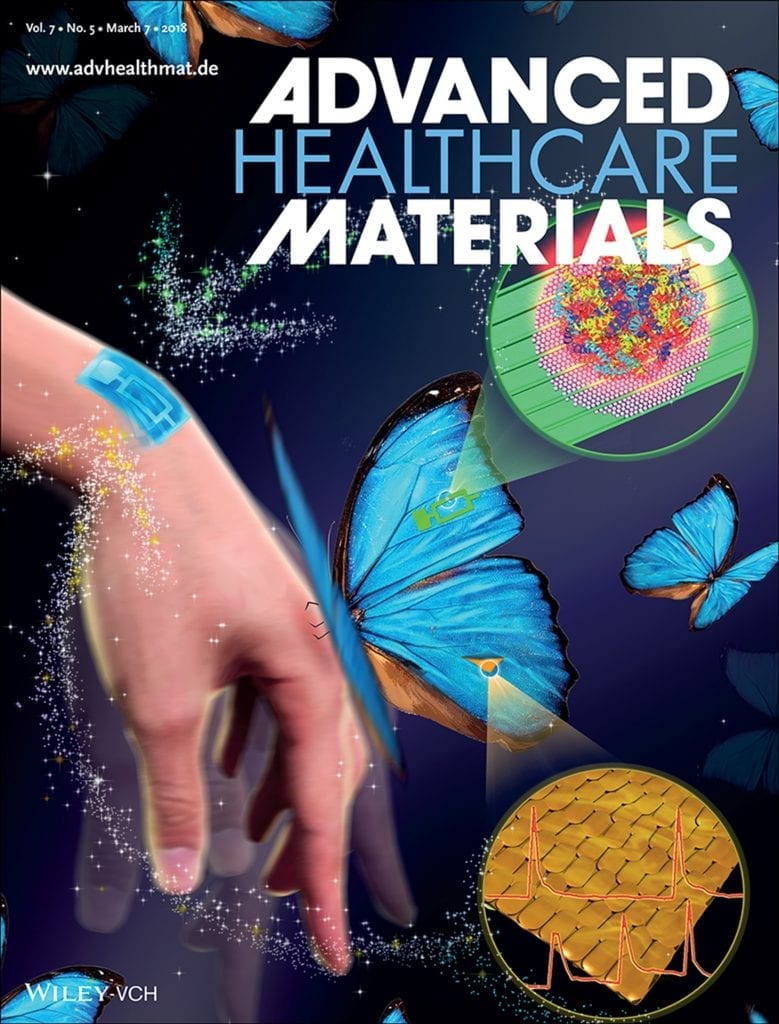 Disposable Morpho menelaus Based Flexible Microfluidic and Electronic Sensor for the Diagnosis of Neurodegenerative Disease
by Zhenzhu He, Abdelrahman Elbaz, Bingbing Gao, Junning Zhang, Enben Su and Zhongze Gu
A disposable Morpho menelaus based wearable biosensor with integration of a microfluidic system and electronic networks is presented by Zhongze Gu and co-workers. The excellent structural and optical characteristics of the Morpho menelaus are exploited for flexible sensors, which enable biochemical-physiological hybrid monitoring of neurodegenerative disease for the early diagnosis.
Interested in more news about Advanced Healthcare Materials? Also check out our monthly Most Read and our previous cover art feature.

We recently have released top-level special issues on biomimetic interfaces in biomedical devices and microphysiological analytic platforms (MAPs): precision organs on chip.
Discover our new virtual issues now too and read selected articles on nanotherapeutics, regenerative medicine, biofabrication, stem cells, and diagnostic devices  for free.