Advanced Healthcare Materials celebrates its 5th birthday this year! Since 2012 we have been bringing you the latest breakthroughs in biomedical materials science with a strong focus on improving human health. We therefore have launched virtual issues on five hot topics in the field, where you can access some of our best recent papers free of charge!
No access to our published content yet? Make sure to recommend Advanced Healthcare Materials to your librarian. More information can be found here.
In this feature, we highlight the artwork on the covers of the most recent issues of Advanced Healthcare Materials, and of course the research behind it. You can find the latest issue here. Click on the titles or cover images below to get to the corresponding papers. Also check out our monthly Most Read and our previous cover art feature.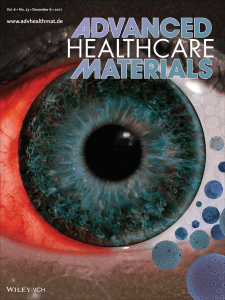 Ocular Therapeutics: Modern Therapeutic Approaches for Noninfectious Ocular Diseases Involving Inflammation
by Michelle L. Ratay, Elena Bellotti, Riccardo Gottardi and Steven R. Little
Ocular diseases (ex: dry eye disease, age-related macular degeneration, uveitis) significantly affect the quality of life of millions of individuals each year. In these diseases, a local inflammatory response results in ocular tissue damage. In order to overcome this inflammatory response, new therapeutic controlled release systems are developed to help restore homeostasis in the ocular microenvironment. Steven R. Little and co-workers outline multiple types of therapeutic strategies that aim to either address the symptoms or abate the underlying cause of these diseases.
Cryopreservation: Hydrogel Encapsulation Facilitates Rapid-Cooling Cryopreservation of Stem Cell-Laden Core–Shell Microcapsules as Cell–Biomaterial Constructs
by Gang Zhao, Xiaoli Liu, Kaixuan Zhu and Xiaoming He
Gang Zhao and co-workers develop a rapid cryopreservation method for large-volume stem cell hydrogel constructs. Stem cells encapsulated in core-shell microcapsules retain their multipotential differentiation capability, and survive well when subjected to visible ice formation during cooling and subsequent ice formation during re-warming, a so-called devitrification process that is considered to be lethal for cells in long-term cryopreservation.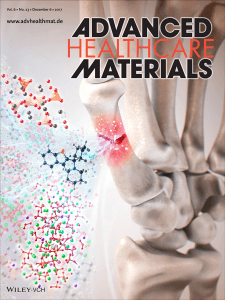 Bone Tissue Engineering: Biomimetic Materials and Fabrication Approaches for Bone Tissue Engineering
by Hwan D. Kim, Sivashanmugam Amirthalingam, Seunghyun L. Kim, Seunghun S. Lee, Jayakumar Rangasamy and Nathaniel S. Hwang
Hwan D. Kim and co-workers describe bone tissue engineering strategies based on biomimetic materials. In particular, latest findings on the role of biomimetic inorganic materials for phenotypically stable bone tissue formation and osteogenic differentiation are presented. Furthermore, fabricated scaffold designs and compositions that provide an osteo-friendly environment for the osteogenic commitment of stem cells are important for successful bone tissue regeneration. This Progress Report revisits various strategies to engineer three-dimensional porous structures for stem cell infiltration, vascularization, and nutrient differentiation.
Interested in more news about Advanced Healthcare Materials? Also check out our monthly Most Read and our previous cover art feature.
We recently have released a top-level special issue on biomimetic interfaces in biomedical devices.
Discover our new virtual issues now too and read selected articles on nanotherapeutics, regenerative medicine, biofabrication, stem cells, and diagnostic devices for free.