Advanced Healthcare Materials celebrates its 5th birthday this year! Since 2012 we have been bringing you the latest breakthroughs in biomedical materials science with a strong focus on improving human health, and we will continue to do so in 2017. We therefore have launched virtual issues on five hot topics in the field, where you can access some of our best recent papers free of charge!
No access to our published content yet? Make sure to recommend Advanced Healthcare Materials to your librarian. More information can be found here.
In this feature, we highlight the artwork on the covers of the most recent issues of Advanced Healthcare Materials, and of course the research behind it. You can find these latest issues here, here and here. Click on the titles or cover images below to get to the corresponding papers. Also check out our monthly Most Read and our previous cover art feature.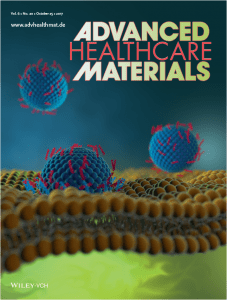 Mesoporous Silica Nanoparticles: Membrane Fusion Mediated Intracellular Delivery of Lipid Bilayer Coated Mesoporous Silica Nanoparticles
by Jian Yang, Jing Tu, Gerda E. M. Lamers, René C. L. Olsthoorn and Alexander Kros
Alexander Kros and co-workers describe how mesoporous silica nanoparticles (MSNs) are delivered into cells via membrane fusion thereby omitting endocytosis pathways. Fusion is induced by a pair of complementary coiled-coil lipopeptides inserted into the membrane of cells and in the bilayer of lipid-coated MSNs. In this manner proteins can be efficiently delivered into the cytoplasm of cells.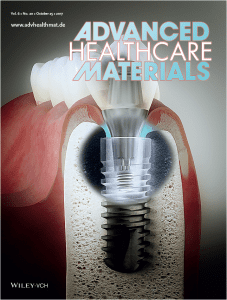 Osseointegrated Implants: Strategies for Optimizing the Soft Tissue Seal around Osseointegrated Implants
by Mohamed-Nur Abdallah, Zahi Badran, Ovidiu Ciobanu, Nader Hamdan and Faleh Tamimi
Establishing a strong soft tissue seal around bone-anchored implants, such as orthopedic and dental implants, is critical for preventing bacterial infections and enhancing their long-term success. The recent findings and challenges concerning the establishment of such a strong soft tissue attachment are reviewed by Faleh Tamimi and co-workers.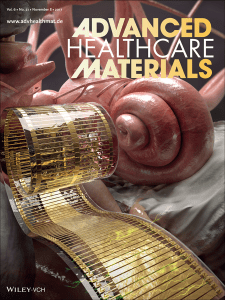 Basilar Membranes: Biomimetic Artificial Basilar Membranes for Next-Generation Cochlear Implants
by Jongmoon Jang, Jeong Hun Jang and Hongsoo Choi
Artificial basilar membrane (ABM) is an acoustic transducer that mimics cochlear tonotopy. Hongsoo Choi and co-workers demonstrate how mechanical-to-electrical transduction can be implemented by the piezoelectric or triboelectric effect for self-powered devices. The ABMs are currently evolving into practical hearing sensors and will be the key technology that opens up the development of next generation cochlear implants in near future.
Memory-Shape Implants: Fast Setting Silk Fibroin Bioink for Bioprinting of Patient-Specific Memory-Shape Implants
by João B. Costa, Joana Silva-Correia, Joaquim M. Oliveira and Rui L. Reis
A silk fibroin bioink for the production of patient-specific memory-shape implants is proposed by Joaquim M. Oliveira and co-workers using a fast setting enzymatic-based cross-linking reaction. The reproducibility and the reliability of this bioink allow the production of different scaffolds with superior mechanical performance. Its versatility gives new opportunity concerning tissue engineering approaches, in particular for the biofabrication of patient-specific memory-shape implants.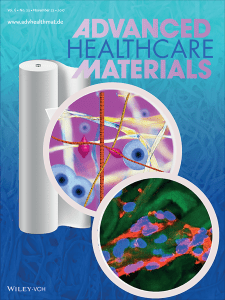 Personalized Medicine: Engineered Paper-Based Cell Culture Platforms
by Darlin Lantigua, Yan Ni Kelly, Baris Unal and Gulden Camci-Unal
Engineered paper-based cell culture platforms demonstrate great promise for personalized medicine, diagnostics, disease models, organ-on-paper systems, and tissue origami and engineering. Gulden Camci-Unal and co-workers provide an overview of engineered paper-based platforms for culture and analysis of various types of cells.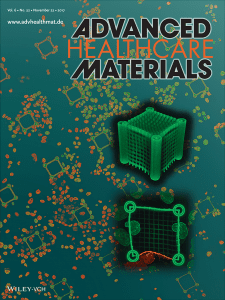 Tumor Cell Dynamics: Microenvironmental Stiffness of 3D Polymeric Structures to Study Invasive Rates of Cancer Cells
by Enrico Domenico Lemma, Barbara Spagnolo, Francesco Rizzi, Stefania Corvaglia, Marco Pisanello, Massimo De Vittorio and Ferruccio Pisanello
Three-dimensional cage-like microscaffolds with tailored Young's modulus are used to induce different invasive behaviours of cancer cells according to structural stiffness by Enrico Domenico Lemma, Ferruccio Pisanello, and co-workers. Tumor cells invasion is boosted by softer architectures and by the presence of stiffness "weak spots" within overall rigid scaffolds, enabling more detailed analysis on mechanical interactions between tumor cells and the extracellular matrix.
Interested in more news about Advanced Healthcare Materials? Also check out our monthly Most Read and our previous cover art feature.
We recently have released a top-level special issue on biomimetic interfaces in biomedical devices.
Discover our new virtual issues now too and read selected articles on nanotherapeutics, regenerative medicine, biofabrication, stem cells, and diagnostic devices for free.