All over the world, teams of photovoltaics researchers are devoting significant efforts to a race to the top in terms of device efficiency. For some solar cell applications, the efficiency is very important, but for many applications in wearable electronics, other factors such as cost, weight, and processability are of even higher importance, and by concentrating efforts on device design and integration, these types of applications can be realized without the need for world-beating efficiencies.
Alexander Colsmann and his colleagues at Karlsruhe Institute of Technology use exactly these principles to design and build a set of "solar glasses", which integrate transparent solar cells into the lenses and electronics into the frames, to measure and display the instantaneous light intensity and ambient temperature. This successful demonstration also serves as a proof of concept of a design that could use solar energy to power a multitude of other functions in wearable electronics.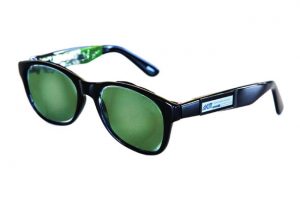 First author Dominik Landerer and the research team used a combination of commercially available thiophene- and fullerene-based polymers to form the solar cells, where their properties of light weight, processability, transparency, and low-light performance are put on full display. The low-light performance is of paramount importance because the solar glasses are designed to be fully functional even under office lighting indoors (500 lux). To drive this point home, the research team showed that the efficiency of their solar cells actually increased under 0.01 suns illumination intensity, in comparison to the the performance at the commonly used intensity at 1 sun.
Each lens is composed of one uninterrupted solar cell to ensure that the vision remains unobstructed, and the power requirements of the microprocessor and circuitry were designed to match the 400 μW that the two lenses generate at low-intensity 500 lux illumination. The solar glasses were then able to operate continuously without the use of batteries for energy storage by continuously generating a steady level of power. With all of the power generated on board, this could open the door for new applications in hearing aids, pedometers, or other wearable electronics, where the end user would not notice any difference to normal prescription glasses or sunglasses, as the fabricated solar glasses are of conventional weight and could in principle be made to personal specifications using corrective lenses. All of this goes to show that the future of wearable electronics may be very bright indeed, and solar glasses may be showing us the way.