In the Protein Science Virtual Issue "Protein Science in Canada", the Journal Editor-in-Chief Brian Matthews and Managing Editor Anar Murphy wrote: "This year's 31st Annual Symposium of the Protein Society will take place in the City of Saints – Montreal, Canada from July 24 to 27. To commemorate this spectacular event and to celebrate our Canadian authors, we present this Virtual Issue with the best recent Canadian papers published in Protein Science. And we wish Canada its Happy 150th Birthday!"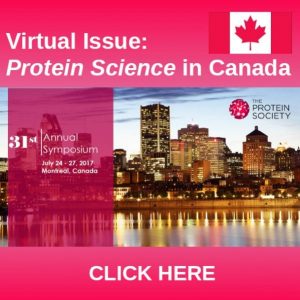 This Virtual Issue includes thirteen papers from the Journal's Canadian authors that report state-of-the-art protein purification, imaging and characterization techniques such as Mass Spectrometry, X-ray crystallography, Cryo-Electron Microscopy, and several others. Many of which were covered in the dedicated Special Issues. The authors used these techniques to address a wide variety of fundamental questions in protein folding, unfolding and misfolding pertaining to neurodegenerative disorders, protein engineering, and protein evolution and design for biopharmaceutical applications.
These studies are only a few of many great articles by the Canadian authors Protein Science has received and published since Dr. Hans Neurath founded the Journal in 1992.
For more information read the Editorial for this Virtual Issue and the article in the collection below:
Relationship between sequence conservation and three-dimensional structure in a large family of esterases, lipases, and related proteins
Miroslaw Cygler, Joseph D. Schrag, Joel L. Sussman, Michal Harel, Israel Silman, Mary K. Gentry and Bhupendra P. Doctor
Membrane proteins in their native habitat as seen by solid-state NMR spectroscopy.
Leonid S. Brown and Vladimir Ladizhansky
Arginine: Its pKa value revisited
Carolyn A. Fitch, Gerald Platzer, Mark Okon, Bertrand Garcia-Moreno E. and Lawrence P. McIntosh
Sensitivity of secondary structure propensities to sequence differences between α- and γ-synuclein: Implications for fibrillation
Joseph A. Marsh, Vinay K. Singh, Zongchao Jia and Julie D. Forman-Kay
Destabilization of the dimer interface is a common consequence of diverse ALS-associated mutations in metal free SOD1.
Helen R. Broom, Jessica A. O. Rumfeldt, Kenrick A. Vassall and Elizabeth M. Meiering
HX-MS2 for high performance conformational analysis of complex protein states.
Kyle M. Burns, Vladimir Sarpe, Mike Wagenbach, Linda Wordeman and David C. Schriemer
Using hydrogen deuterium exchange mass spectrometry to engineer optimized constructs for crystallization of protein complexes: Case study of PI4KIIIβ with Rab11.
Melissa L. Fowler, Jacob A. McPhail, Meredith L. Jenkins, Glenn R. Masson, Florentine U. Rutaganira, Kevan M. Shokat, Roger L. Williams and John E. Burke
Structure of the magnetosome-associated actin-like MamK filament at subnanometer resolution.
Julien R.C. Bergeron, Rachel Hutto, Ertan Ozyamak, Nancy Hom, Jesse Hansen, Olga Draper, Meghan E. Byrne, Sepehr Keyhani, Arash Komeili and Justin M. Kollman
Protein unfolding rates correlate as strongly as folding rates with native structure.
Aron Broom, Shachi Gosavi and Elizabeth M. Meiering
Vibrational entropy differences between mesophile and thermophile proteins and their use in protein engineering.
Vincent Frappier and Rafael Najmanovich
Combinatorial active-site variants confer sustained clavulanate resistance in BlaC β-lactamase from Mycobacterium tuberculosis.
Philippe Egesborg, Hélène Carlettini, Jordan P. Volpato and Nicolas Doucet
One ring to rule them all: Current trends in combating bacterial resistance to the β-lactams.
Dustin T. King, Solmaz Sobhanifar and Natalie C. J. Strynadka
How mutational epistasis impairs predictability in protein evolution and design.
Charlotte M. Miton and Nobuhiko Tokuriki