Researchers from Nanyang Technological University and Duke-NUS Medical School (Singapore), Chinese Academy of Sciences (China), and Georgia Institute of Technology (USA) have recently reported in Advanced Materials the first example of a TENG-based self-powered implantable drug delivery system (iDDS), and demonstrate its functionality in ocular drug delivery.
TENG (triboelectric nanogenerator) is a biokinetic energy source that converts mechanical energy – such as energy generated through the motion of body parts – into electricity. With biomedical applications in mind, TENG-based devices permit miniaturized, sustainable, implantable electronic devices that overcome the previous limitations of such devices, like needing an external power source, or the risks and cost associated with frequent surgery.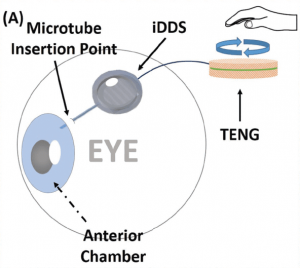 The device proposed here is an electrochemical microfluidic pump for drug delivery that is powered by TENG using human motion. The structure is simple – composed of soft and deformable microneedles that can be used to deliver drugs without extensive surgery – and is fully implantable.
As a proof of concept, the researchers demonstrated transsclera drug delivery in porcine eyes using biokinetic energy produced by moving human hands (see Figure, left). Fluorescent particles were used instead of drugs so that fluorescence imaging could trace the delivery. The device showed efficient, controllable, and homogenous particle delivery over a sustained time-scale, and the researchers project that it could have "prolonged usability for at least 500 days".