The Editors of Advanced Science are pleased to bring you this special Health, Medical and Life Sciences virtual issue. This collection of Advanced Science articles highlights outstanding work in the areas of Health, Medical and Life Sciences. A range of themes are covered, including the following: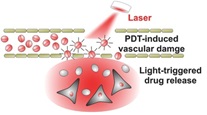 Cancer is a major burden of disease worldwide. Patients are commonly treated with one or a combination of three options: chemotherapy, radiation therapy, or surgery. The review Chemophototherapy: An Emerging Treatment Option for Solid Tumors by Dandan Luo, Kevin A. Carter, Dyego Miranda, and Jonathan F. Lovell discusses the combination of phototherapy and chemotherapy (chemophototherapy, CPT) in detail. The authors present the current state of CPT, from preclinical to clinical studies as well as the growing emphasis on nanocarrier‐enabled CPT.


 Gene therapy is considered a promising and radical treatment for several diseases like cancer and inherited disorders. Yao Lin and co-workers from the Sun Yat‐sen University successfully encapsulated large nucleic acids, including the CRISPR/Cas9 expression vectors into hybrid exosomes, which were produced via incubating the original exosomes with liposomes. Such exosome–liposome hybrid nanoparticles can deliver CRISPR–Cas9 system in mesenchymal stem cells and thus be promising in in vivo gene manipulation.


Invader cells as delivery vesicles for various cargo molecules. Such system that could force cells to invade a specific class of other cells would be an attractive tool for biotechnological use. Kojima and Fussenegger from the University of Tokyo and ETH Zurich demonstrated a smart cell-targeting approach by synthetically induced polarization of RhoA activity inside the cells in response to specific cell contact. This system allowed invader cell polarization that triggered selective penetration into the cells expressing target antigen.
All articles are freely accessible, and the issue will be updated on a regular basis: Bookmark this page to stay up-to-date with the latest contributions!