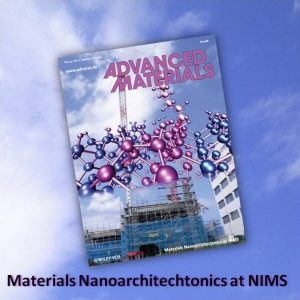 "Nano-" has been a buzzword, or rather "buzz-prefix", in materials science for almost 20 years now. Indeed, it is rare to find a chemistry/physics/engineering research unit without some members dedicated to the study of making and manipulating objects on an atomic or molecular scale. But sometimes the investigation of things so small is best carried out using a large-scale approach. The Japanese Government certainly thought so, and when it formed the International Center for Materials Nanoarchitectonics (WPI-MANA) in 2007 it created "one of the most successful research ventures ever initiated", according to Harry Kroto, Nobel Laureate and Advisor to MANA.
According to Director General Masakazu Aono, MANA's aim is to combine nanotechnology and materials science to "produce cutting-edge research by promoting the participation of leading scientists from around the world and by providing an attractive research environment." The extremely high quality of the research and the global nature of the scientists involved are both evident in recent results from MANA which have now been published together in a special issue of Advanced Materials.
MANA hosts over 200 research scientists, with almost half coming from outside Japan.
According to Aono, in order to fully develop the potential of the science called nanotechnology, the end results must be greater than the sum of the constituent parts – the tiny objects must interact in such a way as to create entirely new properties or functionalities. "We coined the term nanoarchitectonics to express this innovation of nanotechnology: it is a technology system aimed at arranging nanoscale structural units – a group of atoms, molecules, or nanoscale functional components – into a configuration that creates a novel functionality through mutual interactions among those units."
Various techniques are used to arrange the objects, including self-organization and the use of external fields, such as electric or magnetic. The approach can be likened to constructing a house, different materials are designed and arranged carefully to create a complex and useful object. The cover picture above illustrates this comparison, with the new building that is being constructed to house MANA shown with a molecular assembly; both macroscopic architecture and nano-architecture are shown.
MANA scientists do not make houses, but design and construct a broad range of other useful systems. From sensors to catalysts to brain-like electronic circuits, MANA scientists see the tremendous potential for using nanotechnology.
In addition to a variety of research papers, the issue includes as a bonus Nobel Laureate and MANA Advisor Heinrich Rohrer offering his insights on the relationship between society and science and some advice for researchers in an editorial. You can also discover why Kroto thinks so highly of MANA.
Guest Editors:
Masakazu Aono (Director General): [email protected]
Yoshio Bando (Chief Operating Officer): [email protected]
Katsuhiko Ariga (Principal Investigator): [email protected]
International Center for Materials Nanoarchitectonics (WPI-MANA)
National Institute of Materials Science (NIMS)
1-1 Namiki, Tsukuba, Ibaraki 305-0044 Japan