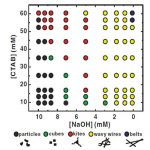 Making exactly the noble metal nanostructure you want is now much simpler, thanks to a microfluidic array developed by US and Chinese researchers.
Nanostructures made up of noble metals such as gold and palladium are vitally important to further our progress in electronics, photonics, plasmonics, information storage, catalysis, and biomedicine, to name but a few. Most of these structures are made using solution synthesis procedures which can be difficult to optimize; often commonly used and published procedures do not use the optimal conditions. In particular, the morphology (shape and form) can be greatly affected by variables such as temperature, pH, and concentration of reactants. An approach that identifies optimal parameters for each morphology at a glance would help many researchers.
Microfluidics, an emerging technology that works with very small volumes of reagents and allows multiple reactions to be run in parallel, is an ideal way to screen many variables at once. By taking advantage of this technology, Younan Xia and co-workers at Washington University, USA, and the Hong Kong University of Science and Technology, China, have developed an on-chip way of rapidly screening the experimental conditions for synthesis of noble metal nanostructures and their morphologies. The scientists used an array of microfluidic reactors containing solutions with gradients in reagent concentration, pH value, or reaction temperature. They were able to quickly identify the parameters needed for the production of Au and Pd nanostructures with various morphologies, including some morphologies that had not previously been made.
The scientists expect that their approach will be extended to other systems for rapid screening and optimization of synthesis conditions for different types of nanostructure. This approach should mean that nanostructures can be made purer and in larger quantities than before, which should benefit virtually everyone working with nanotechnology.