Holography is an optical technique that records information on both the phase and amplitude of light and can therefore be used for 3D image reconstruction. To enable reconfigurable 3D electro-holographic display elements, one must have the ability to form arbitrary optical field profiles. Hence, every 'pixel' element in such a device should independently modulate all the properties of the optical wavefront. However, one is limited by technology that can allow control of all the properties of light in a small space (pixel). The problem is a hologram encodes an enormous amount of optical information and dynamic representation of this requires vast amounts of information modulated on a display device. Plasmonic optical antennas which exhibit some remarkable optical properties may offer a solution to this constraint.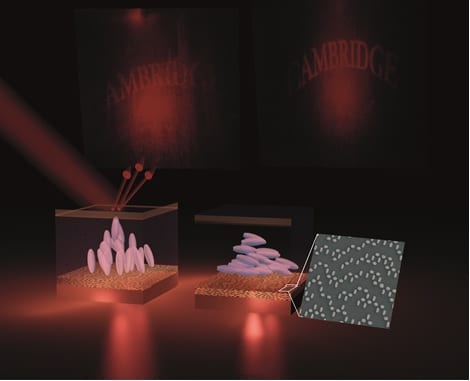 Researchers from the engineering department at the University of Cambridge have proposed a new type of pixel element and demonstrated its unique switching capability. The work started with the fact that a backplane surface of a typical liquid crystal on silicon display pixel element provides little optical functionality other than reflecting incident light. Therefore, a relatively large area exists in which additional functionality can be added through the patterning of nanostructures (optical antennas) to increase the channel capacity of pixels in order to fulfil bandwidth requirements of electro-holography.
Normally, devices with plasmonic optical antennas are passive: that is, their optical properties cannot be switched post-fabrication which is a must for real world applications. Through the integration with liquid crystals, in the form of typical pixel architecture, the researchers were able to actively switch which hologram is excited and hence which output image is selected. Their work highlights the opportunity for utilizing the plasmonic properties of optical antennas to enable multi-functional pixel elements for next generation holographic display technologies.
Scaling up these pixels would mean a display would have the ability to encode switchable amplitude, wavelength and polarisation information, a stark contrast to conventional pixel technology.
Text provided by Calum Williams