Cytometry Part A, the Official Journal of the International Society for Advancement of Cytometry, has just released a Special Issue "Computer-Aided Diagnostics in Digital Pathology" guest edited by Ewert Bengtsson, Håvard Danielsen, Darren Treanor, Metin N. Gurcan, Calum MacAulay and Bela Molar.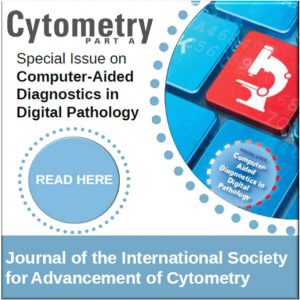 The compound microscopes were invented in the 1590s.  XVII and XVIII centuries were productive for medical science thanks to the prolific careers of Antonie van Leeuwenhoek, Giovanni Battista Morgagni, and Marcello Malpighi – the "fathers" of microbiology, modern anatomical pathology, and microscopic anatomy, respectively. Microscopes have been reliable companions of clinical pathologists ever since. With the emergence of high-resolution scanners, cameras and computer software, the field is now opening up to a new endeavor – Digital Pathology.
The computer-aided image analysis of clinical pathology samples can either be fully automated on the whole slide image or the pathologist can select the regions of interest as he scans the field:
The first option provides an immediate and preset automated processing following the scan. However, it requires full automation adjusting e.g. to different staining intensities and setting the processing parameters automatically.
The interactive option allows input of critical parameters and direct monitoring and tuning of the data analysis by the pathologist in real time. However, this approach must produce fast results to expedite the diagnosis.
This Special Issue includes the Editorial by Guest Editors and 7 articles that report the latest advances in both approaches used to identify cancerous and/or metastatic tissues based on their morphology, cell proliferation frequency, and cancer-specific surface receptors that can be used as biomarkers in ER-positive breast cancer, follicular lymphoma, and several other types of cancer.