Dr. Anderson Ho Cheung Shum is an Associate Professor in the Department of Mechanical Engineering and Medical Engineering Programme at the University of Hong Kong. He received his B.S.E. degree, summa cum laude, in Chemical engineering from Princeton University, S.M. and Ph.D. in applied Physics from Harvard University.
His research interests include emulsions, microfluidics, emulsion-templated materials and soft matter. He received the Early Career Award by the Research Grants Council of Hong Kong in 2012. He is an elected member of Phi Beta Kappa (Academic Honor Society), Sigma Xi (Scientific Research Society), and Tau Beta Pi (Engineering Honor Society), American Institute of Chemical Engineers (AIChE), and American Society of Mechanical Engineers (ASME).
Although it is only a few years since he became an professor, he has supervised several PhD students, some of which have already become professors. Recently, together with two other guest editors, Prof. Shum is organizing a special issue for Small journal with a topic of microfluidics. Therefore, we would like to take this opportunity to talk with Prof. Shum, and hope his experience may inspire the young researchers.
Introduction
Could you briefly introduce your research?
Our group focuses on droplet microfluidics, in which we use different types of droplets for materials and biomedical applications. One pioneering contribution from our group has been the advancement of oil-free, organic-solvent-free all-aqueous droplets using microfluidics. These droplets have very unique interfacial properties, enabling mimicking of biological phenomena and functions. Another type of projects revolves around using droplets as containers to perform high-throughput biotechnology, such as single-cell-based investigations. These projects tend to be collaborative, with important contributions coming from our clinical and basic medical collaborators, in hope of realizing the advantages of our techniques in biomedical fields with impact.
Upbringing and early interest in science
How did you start your career as a scientist? What is the most attractive thing as a scientist?
I entered my undergraduate degree knowing that I had interest in engineering and chemistry. I believed that engineering was a great subject, as it allows development of quantitative, problem-solving, and analytic skills, which, I was certain, would be essential to any future careers in modern society. Then, in high-school, I thought chemistry was pretty amazing, as very surprising phenomena and reactions could result from totally unexpected combination of chemical components. That summer, I joined the SciTech program at Technion in Israel, working closely with Hossam Haick, a PhD student at the time, and enjoyed it tremendously. In my third year of university, I started conducting research in my professors' laboratory (Prof. Ilhan Aksay and the late Prof. Dudley Saville). In my project, I worked very hard, but couldn't get any results close to what I was looking for. That experience was unlike anything I did previously. I kept working very hard with senior members of the lab, and after almost a year, the experiments started to work in ways that I totally didn't expect. The satisfaction resulting from it was tremendous, and at that point, I started thinking that this was what I wanted to do for the rest of my life.
What would you like to work on if not science? If given another chance, would you still choose to be a researcher?
If I didn't pursue academic career in research, I would probably be a management trainee in a large corporation after graduation, and climbing up the ladder there. I would probably be making more money, but if I were to choose again, I would still choose to be an academics, as it allows me to learn, earn, return and mingle with students and international researchers with brilliant aspirations and intellectual capacities.
Main fields of interest
Why did you choose microfluidics as your research project?
Microfluidics is fun, as you can design your own devices very easily, incorporate functional components as you wish, and see the results very quickly after that. The micro- and nano-scaled phenomena in these devices are often surprising and unexpected. And besides the fun, the results from microfluidic research can have great impact in applications.
How do you envision the application of microfluidics in material and medical field?
I hope we could develop materials with unique properties, for instance, those that are available in biological systems, but not yet in synthetic systems. In biomedical areas, I hope our techniques can enable new biotechnologies that will be widely used to qualitatively improve healthcare, for instance, through new instrumentations for precision medicine.
Major scientific achievements in your career
Which piece of work are you most proud of? Which piece of work is your favorite?
I enjoy the works that were accidentally discovered by my students the most, as I always enjoy having surprises from them, and be able to learn from them. For instance, one of my former students' discovery of strategies that will allow liquid droplets to divide. That was surprising. Another works that had an element of that was when my former research assistant and student showed me that they could visualize music at aqueous-aqueous interfaces with low interfacial tension. That was surprising! And my favorite research are the ones that are being conducted in the group right now. I am very eager to see how they will enhance our understanding and make an impact on new applications.
Do you think it is beneficial to take part in society work or be a reviewer?
It is very essential and beneficial, as scientists work as a community. Our papers get reviewed and edited, and in return, we also contribute by editing and reviewing. That way, we constantly get inspired and excited by other researchers, and at the same time, we could enhance the quality of each other's works in terms of breadth and depth.
Work-life balance
When would you enjoy working the most? Could you share some interesting moment in your research with us?
I enjoy it the most when I can show my children and my wife what we are working on, and they can actually understand. That's when I know we may be doing something relevant and interesting. I remember when my son was still a baby, I was reviewing papers while trying to put him to sleep on my shoulder, and from time to time, he would look excited at some of the figures in the papers.
What is your hobby?
Besides research, I enjoy spending time with my family the most. Just taking my children to hobby classes, playgrounds, and grabbing a simple dinner with my family can take away the tiredness from a busy day at work and frustrations from rejected proposals.
Advice to youth
What do you think is the most important characteristics and goal for a researcher? Could you give some suggestions to the graduate students or junior researchers?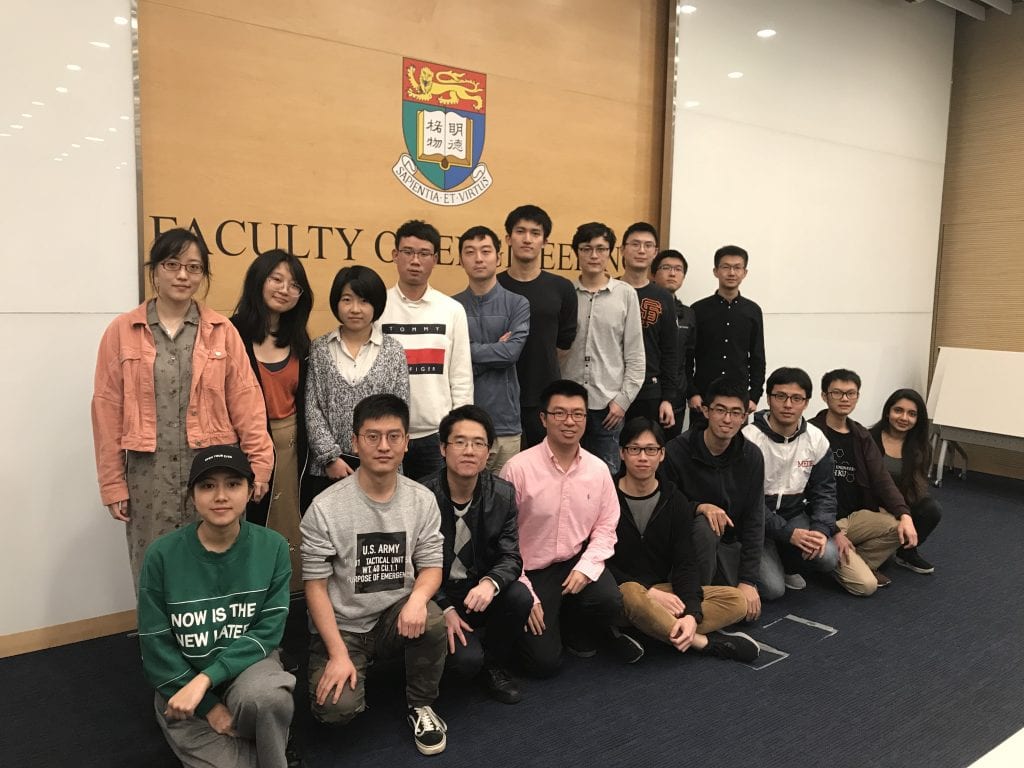 Passion for the research, as it will allow researchers to pursue research with the highest quality sustainably for a long period of time. I think the goal of most scientists is to enjoy the process of discovery and invention, and at the same time, contribute to betterment of life and society through the research.
To students who aspire to pursue research, my advice is: ask yourselves whether you have the true passion and perseverance, as the research process can have lots of frustrations and disappointments. Without passion and perseverance, no one can have a sustainable research career. After that, we need to develop strong fundamental knowledge, and be creative to find new ways to fulfill the needs of the problems we work on.
What do you think is the key to a happy lab life?
Curiosity: Celebrate the satisfaction of curiosity when things work; be even more curious even when things don't work!