The latest issue of Advanced Optical Materials is now available. Don't miss out: take advantage of the current free access to all Advanced Optical Materials articles by signing up here!
These articles were highlighted on the covers of the Advanced Optical Materials November issue:
Graphene
Graphene quantum dots (GQDs) are fabricated with minimal oxidation by S. Yoo, Y.-H. Cho, S. Jeon, and co-workers using a graphite intercalation compound method. The GQDs are shown to emit blue light, and these can be incorporated into polymeric host layers as the active layer in a highly effective blue LED device.
Metasurfaces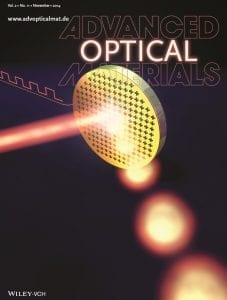 By merging plasmonic metamaterials with quantum-engineered inter-subband transitions in a semiconductor heterostructure, M. A. Belkin and co-workers have realized a 220-nanometer-thick electrically tunable mirror that can change its reflectivity in less than 10 nanoseconds in response to an applied electrical bias of a few volts, across a broad tunable range.