Inkjet and screen printing technologies have not only been used in the graphics industry, but have also been increasingly used for scientific research and prototype work. In particular, the printing of (semi)conductive materials has attracted much attention in the last two decades.
Printing represents an additive technology, it enables the formation of 3D objects based on the layer-by-layer approach. In recent years, researchers have been able to integrate new materials into 3D printing processes in order to manufacture objects with high performance and enhanced properties. In addition, researchers have been trying to optimize the 3D printing process itself, e.g., in terms of process speed, different object sizes, printing accuracy, and user friendliness. However, most of the developments in this area still use only on a single material for printing "conventional" 3D objects without additional functionality.
Printing objects with electronic functionality is a new concept in the realm of 3D printing, and one that is still at its infancy. In order to obtain fully functional electronic devices, the question of processing and effectively combining different materials with the well-known state-of-the-art 3D printing technologies remains.
Here, the main struggle with simultaneously combining multiple materials into the same 3D object is the compatibility of one layer with the next. This means that upon printing a layer, the previous layers need to be fixed either by annealing or by using orthogonal solvents in order to prevent irregular structures.

A research team from Chemnitz University of Technology and the Fraunhofer ENAS Institute in Chemnitz, Germany, has recently published a study in Advanced Engineering Materials in which the combination of inkjet and screen printing was used to develop electronic 3D printed objects.
Screen printing was employed to print primary batteries used as a power source for a solid‐state LED. Inkjet printing was applied for the deposition of silver electrodes and metal pillars acting as vertical interconnects on glass slides.
Here, the two printing modes are exploited as multi-material 3D printing tools, enabling the printing of metal traces and insulating polymers to build complex and functional 3D electronic objects. The objects consist of both conductive nanoparticle-based materials as well as of nonconductive polymer materials.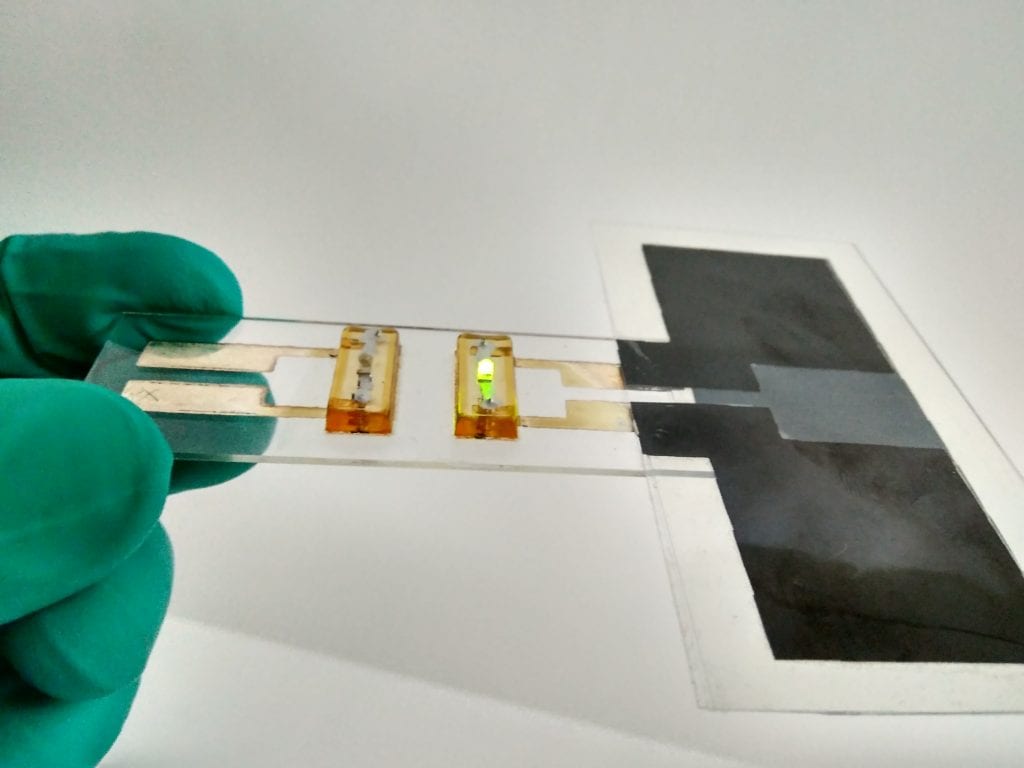 The authors are optimistic that their approach will have a bright future, e.g., in the field of 3D-printed electronics and microelectronics, including totally printed, multi-layered circuit boards, and many more complex devices.
Next challenges involve the usage of additional materials, the optimization of the process speed and further detailed studies of the interfaces of the different materials brought together by the printing technologies.
Dr. Enrico Sowade, the study's corresponding author, elaborates: "A major outcome of our research is that standard screen and inkjet printing technology can be exploited for the manufacturing of multi-material 3D objects with electronic functionalities. Based on the very simple demonstrator in our research study, we could showcase the high potential of the manufacturing approach for many other, potentially more complex devices, e.g., in the area of microelectronics and printed circuit boards."