EDAX designs, manufactures, installs and services products and systems for customers in the semiconductor, metals, geological, pharmaceutical, biomaterials, and ceramics markets. The company is particularly well known for energy dispersive microanalysis, electron backscatter diffraction and x-ray fluorescence instrumentation. Now, EDAX has introduced the TEAM Pegasus system. It combines energy dispersive spectroscopy (EDS) and electron backscatter diffraction (EBSD) hardware with EDAX's TEAM software platform to create synergistic materials characterization.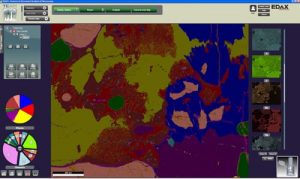 TEAM Pegasus is the integration of EDAX's TEAM EDS analysis system and its EBSD product line. According to the company, the product offers both high-level analysis capabilities and an easy-to-use, intuitive interface to users of all levels. The new platform introduces so-called smart features to EBSD, such as camera and background guides to aid the user in data collection. Indexing and data management is intended to guarantee accurate analysis and reporting.
"By bringing the analytical intelligence and Smart Features of TEAM EDS to the EBSD product line, EDAX has enabled users of all experience levels to take advantage of EDAX's powerful EBSD technology," comments Mike Coy, Technical Product Manager of the Microanalysis product line. "The TEAM software enhances the ease of use of both the EBSD hardware and data analysis with its automated work functions and workflow guidance."
As the company reports, the new platform allows a user to collect dynamic EDS and EBSD maps simultaneously and to move between the techniques seamlessly. For real-time data analysis, the software also allows the user to interact with the data during the acquisition process, to view orientation, composition, quality or the sample image.
"TEAM Pegasus was designed from the start as an integrated system to streamline the movement between EDS and EBSD and to allow maximum synergy from the two techniques," adds Coy. "This approach ensures that users will get the maximum amount of data in the shortest time and that the data collected will quickly lead them to identify a solution to their material analysis problem."