Today, sensors are increasingly tracking all aspects of our lives: from our physical activity, the environment inside and outside our homes, to the road conditions and much more. They provide the essential information allowing drones to fly, and cars and trains to run autonomously. Currently, all these sensors are fabricated as separate devices from the sensed components imposing design limitations and compromising on their performance. What if smart sensing materials were integrated within a structural component?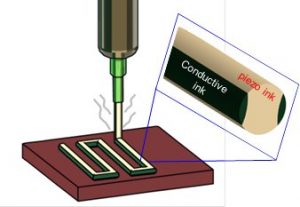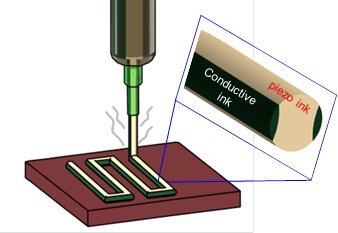 Researchers at Polytechnique Montreal are pursuing this goal of 3D printing multi-material parts with embedded sensors combining structural and functional materials. They demonstrated this via 3D printing of a piezoelectric sensor on a plastic wing to study its pulsating response as reported in Advanced Engineering Materials. Piezoelectric materials generate charges when they are deformed, and therefore serve as self-powered sensors. Moreover, the researchers 3D printed these piezoelectric sensors in a single step at room temperature by extruding a piezoelectric nanocomposite sandwiched between two layers of silver paste acting as electrodes. This coextrusion technique is analogous to a striped toothpaste that comes out in multiple colors from the tube.
They printed these coextruded sensors directly on top of a miniature wing to monitor its flapping motion on the fly, detecting changes in its vicinity. This could be applied to drones to continually fine-tune flight parameters for an efficient autonomous flight. The coextruded filaments were also employed directly as smart filaments woven into fabrics to differentiate respiration cycles and limb movements. Customized sensors fabricated from this technique are not just restricted to apparels and drones but to any kind of surface, paving a path for tailored sensors for individual needs. For instance, imagine lightweight 3D printed aircraft components with embedded sensors allowing continuous health monitoring and sending warnings when requiring maintenance. Another possibility would be personalized 3D printed smart running shoes to connect with your headphones to give instantaneous feedback on your gait based on the pressure measurements under your feet.
In a future of connected devices, embedded sensors are the interface between computers and the physical world.