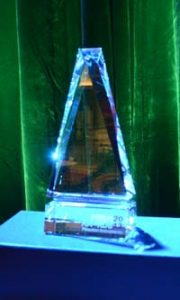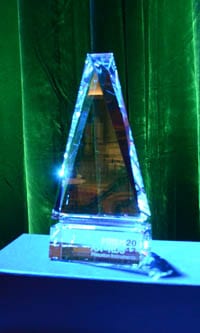 An early-stage diagnostic tool for skin cancers, a portable device to test for toxins in water and food, and a versatile laser capable of meeting multiple industrial needs were among 10 winners of the 2013 Prism Awards for Photonics Innovation announced at this year's SPIE Photonics West in San Francisco.
Sponsored by SPIE, the international society for optics and photonics, and Photonics Media, the annual awards recognize photonic products that break with conventional ideas, solve problems, and improve life through the application of light-based technologies. The awards ceremony was attended by 320 industry executives, analysts, technologists, and investors from around the world.
Results were determined by a panel of expert judges, and included a tie between the top two entries in the particularly competitive Green Photonics category. "This year's Prism winners serve as inspiring examples of the many ways ubiquitous photonics technologies touch and improve our lives — diagnosing and treating disease, ensuring food hygiene and water purity, maintaining safety in our communities — as well as improve research capabilities to address those and other challenges" said SPIE CEO Eugene Arthurs. "While the Prism Awards provide well-deserved recognition for these innovative companies, they also serve to underscore the powerful role of photonics R&D in effecting positive change in the world."
The winners were:
Defense and Security: OEwaves (Pasadena, California) won for its Micro-Opto-Electronic-Oscillator enabling significant performance improvements in airborne radar and signal intelligence systems in operating environments on miniature military platforms such as unmanned aerial vehicles.
Detectors, Sensing, Imaging, and Cameras: Princeton Instruments (Trenton, New Jersey) won with its IsoPlane SCT Spectrograph, giving researchers the ability to utilize the full spatial extent of their detectors without loss of spectral or spatial resolution.
Green Photonics (tie): The Visualant (Seattle, Washington), and Javelin LLC (Bellingham, Washington), ChromaID device tests virtually any material, aerosol, or color using spectral pattern matching technology. The device collects light patterns using a panel of LEDs. Processing software matches the reflected pattern against a database in the cloud, and a Bluetooth interface communicates with smartphones for field testing of water, food, and fuel.
Green Photonics (tie): LEOSPHERE of Orsay, France, won for its R-MAN510. With Raman and dual-polarized channels, the eye-safe, networkable device combines the full performance of sophisticated research lidar with the compactness and low maintenance requirements of cloud ceilometers.
Industrial Lasers: TeraDiode (Wilmington, Massachusetts) won with its TeraBlade 2kW High Brightness Direct Diode Laser, a high-brightness laser emitter that allows direct diode lasers to cut and weld steel in industrial applications. Its wavelength beam-combining technology combines the output of any number, type, wavelength, or power of laser emitters into a single, incoherent laser beam while retaining the brightness of the original emitters.
Life Sciences and Biophotonics: The Verisante Technology (Vancouver, Canada) Aura is a novel Raman spectroscopy device designed to aid in the early detection of all forms of skin cancer including melanoma, basal and squamous cell carcinoma. The underlying technology has also shown promise in the early detection of other cancers including lung, cervix, and colon cancer.
Manufacturing: The Heidelberg Instruments (Heidelberg, Germany) winning MicroPG501 Direct-Write Lithography System is a desktop maskless aligner lithography tool able to write small patterns into photoresists without using a photomask, allowing the user to go directly from design to imaging on the substrate.
Optics and Optical Components: From TAG Optics (Princeton, New Jersey), the ultrahigh speed TAG Lens 2.0 is a tunable gradient index of refraction device exhibiting aspherical wavefronts with low spherical aberrations for emerging applications in industrial or biomedical imaging, laser microprocessing, and metrology.
Scientific Lasers: With the Continuum, Inc. (Santa Clara, California) Horizon OPO, spectroscopists have one all-encompassing oscillator tool allowing them to take their experiments through the entire spectrum, instead of using multiple devices.
Test, Measurement, Metrology: Linden Photonics (Westfield, Massachusetts), in its Lindex Optics Cleaners utilize the same principles of the Van der Waals force that allows a gecko's feet to stick to slick walls with the aid of tiny microhairs: contaminants such as carbon and oils stick to their highly absorptive fiber optics cleaning tool at a molecular level.
Source: SPIE