Image credit: Kieran O'Brien
In 1947, Marie Daly became the first African American woman to receive a doctorate in chemistry in the United States. Through her own intelligence and determination, she overcame serious obstacles to pursue her career in the subject that she loved, paving a trail for young women everywhere.
Born in Queens, New York in 1921, Daly lived through some tumultuous times in American history, witnessing the Great Depression, WWII, and momentous strides for the rights of Black Americans such as the desegregation of schools, the Civil Rights Act, and voting rights. Like so many pioneering females before her, Daly made history by simply pushing back against a status quo that dictated the lives of so many women. Her journey of course was not so "simple", having to surmount impossible barriers that prevented a lot of her peers from reaching the same goals; but through hard work and her own ingenuity, Daly demonstrated to young girls — especially young Black girls — everywhere that they have worth and could do anything they set their minds to.
Daly's passion for science was fostered at a young age. Her father in particular was a strong believer in the value of an education, having attended Cornell University himself before ultimately forgoing his degree in chemistry for financial reasons. Daly's mother was an avid reader and shared her love of books, especially those that centered around science, with her daughters. The library at her grandparent's house would prove an ample playing ground and source of inspiration for the budding scientist, with her favorite book reportedly being Microbe Hunters (Paul De Kruif 1926), which chronicled the discovery of microbes and the scientists that developed vaccines to counter them.
Daly excelled at Hunter College High School, an all girls school in Manhattan, where her love of chemistry was encouraged by her family and teachers. This translated into a B.Sc. at Queens College, where she graduated magna cum laude in 1942. Afterwards, the college offered her a fellowship and part-time work as a lab assistant to help her complete her Master's degree at New York University.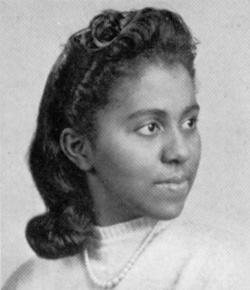 In a personal interview with Contemporary Black Biography (CBB), Daly stated that her decision to remain in school and continue with her Ph.D. was partly because "there wasn't any opportunity for me if I left school at that time". But a Ph.D. in the U.S. can be quite costly, and for this reason she had planned to continue working as a laboratory assistant and tutor to save enough money to overcome the challenges that had prevented her father from realizing his dreams of a higher education.
It was also at this time that WWII began to open doors for women as scores of men were being sent overseas, leaving their jobs behind. She received a fellowship that allowed her to work in Dr. Mary Caldwell's lab at Colombia University. Caldwell herself was the university's first female chemistry professor and was a leading expert in the chemistry of digestive enzymes. After five years, Daly unknowingly made history by becoming the first Black woman in the United States to receive a Ph.D. in chemistry.
From 1947-1948, she taught physical science at Howard University in Washington D.C., and in 1948 won a prestigious grant from the American Cancer Society for a seven-year post-doctoral fellowship at the Rockefeller Institute of Medicine. There she worked with Alfred Mirsky, a pioneer in the field of microbiology, studying the composition and metabolism in the cell nucleus. She told the CBB that this was the highlight of her career because of the interesting research she was doing and the distinguished faculty with whom she worked.
This was during a time before the structure of DNA had been elucidated by Watson, Crick, and Franklin, and before Hershey and Chase confirmed its role as the carrier of hereditary information. Daly's work on nucleic products in these early years became fundamental to our understanding of cell biology, and earned an acknowledgement from Watson and Crick during their Nobel address. This included studying nucleic acids and determining the amino acid sequence of histones — proteins that DNA gets wrapped around during storage and which help control genetic expression — and the structure of purines and pyrimidines, which are basic components of DNA.
In 1955, Daly returned to Columbia to work closely with Dr. Quentin B. Deming, who was studying causes of heart attacks. They transferred to Albert Einstein College in 1958, and together they established that hypertension was a precursor to atherosclerosis (the buildup of fats and cholesterol on artery walls), and were the first to discover the link between high cholesterol and clogged arteries, laying the foundation for our understanding of how heart attacks occur and can be prevented. Daly was also an early investigator into the harmful effects of cigarettes on the lung and heart, as well as the roles that sugar and endocrine factors play in hypertension.
She held a number of prestigious positions during her career, including investigator for the American Heart Association (1958-1963) and became a professor at the Albert Einstein College of Medicine in 1960, where she remained until her retirement in 1986.
At a time when only 2% of Black women held college degrees, Daly's journey to a doctorate and admirable academic career is inspirational. Though she never publicly discussed the challenges she faced, she did champion programs to help support more minority enrolment in medical and graduate school. In 1988, she also established a scholarship at Queens College for African Americans in honor of her father.
While we strive with this series to highlight significant scientific advancements and the people behind them, we must also pay tribute to those that not only pushed the boundaries of science, but society and its expectations. While her contributions to science were indeed significant and she participated in ground-breaking research, Daly broke down barriers that hindered Black Americans, especially Black women, at the time, and used her position to help empower the next generation to aspire to a higher ideal.
References:
American Chemical Society, Marie Maynard Daly
Albert Einstein College of Medicine, Marie M. Daly PhD Memorial Celebration
Science History, Black History Milestones: Timeline
Science History Institute, Marie Maynard Daly