Porous piezoelectric ceramics are attractive candidate materials for a wide range of applications, such as hydrophones and implantable medical devices, and in medical ultrasonic imaging and solar techniques.
Owing to their high hydrophone sensitivity, good figure of merit and low acoustic impedance close to that of water, porous piezoceramics offer several advantages over their dense counterparts. The most common approach to achieve a ceramic structure with the desired pore shape is through the use of dispersed sacrificial template agents that are burned out by a controlled heat treatment.
Compared with the sacrificial template method, the preceramic–paper technology that has been developed over the last decade for large-scale manufacturing of porous ceramic materials provides numerous economic and technological benefits. Moreover, combined with additive manufacturing, such as laminated object manufacturing (LOM), the preceramic–paper approach allows for the fabrication of complex-shape parts.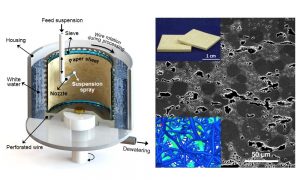 In their pioneering work, Prof. Nahum Travitzky and his colleagues from the Friedrich-Alexander-University Erlangen-Nuremberg demonstrate the ability to fabricate a multilayer functional ceramic with tailored pore structure using the preceramic-paper technology in conjunction with calendaring, lamination and sintering.
Lead-free BaTiO3 was used as a model ferroelectric material. After paper processing and sintering, an anisotropic microstructure with a wide range of residual porosities was obtained, with pores aligned in one direction due to the nature of the papermaking process.
Furthermore, the paper-derived multilayer BaTiO3 exhibited intriguing and anisotropic mechanical and piezoelectric properties. The researchers envision that the preceramic paper technology could ultimately become a convenient and economic method for the fabrication of single or multilayer as well as complex shaped porous functional materials with tailored microstructures.