Researchers of the University of Applied Sciences in Bremen have developed a novel measuring system, won a prize for it, and founded a business. EasyPrecision is the name of this measuring system for special optic devices. It is designed to measure both surface and function of aspheric lenses for the optic industries in the range of nanometers. Manufacturers of object lenses can use it in fields like prototype construction, product development, process optimization and manufacturing-related quality assurance management and thus test the shapes and properties of these optical components.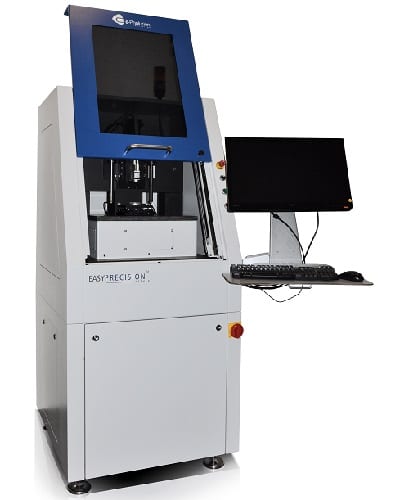 The patents and marketing agency InnoWi saw the chances of the new measurement method and launched patent applications in order to protect the invention. "Academic research in Germany has an extraordinary economic potential. Our task is to recognize this potential, make it accessible to the economy, and support the start-up of new businesses," says Dr. Lieselotte Riegger, InnoWi's General Manager.
Successful research and development is one thing. But founding a company and bringing a developed product on the market is something completely different. This is what the inventors and the new entrepreneurs Prof. Dr. Friedrich Fleischmann and Prof. Thomas Henning as well as the scientists Dr. Ufuk Ceyhan, Matthias Eichmann and David Hilbig have found out. The product may be innovative and the input high and motivated: they know that without professional assistance and a support also from the university it would hardly have been possible to found a high-tech company as a research laboratory spin-off.
The founders submitted an application to the Federal Ministry of Economics and Technology for funds of the EXIST program and received a total of 518,000 euros for the research transfer project. In the meantime, others distinguished the researchers for their innovation; in October they won the competition of the 'most promising junior entrepreneurs'. In the CAMPUSideas competition they came out on top rivalling against 42 submitted ideas and made first place. Also in October, they founded ePholution GmbH and obtained exclusive licenses.
Goal of the company is develop, manufacture and sell high-quality measuring devices. A manufacturing site for high-tech products is supposed to be built and established in Bremen. ePholution GmbH already has its "Employee No. 1": graduate business manager Sebastian Jabs. With his expertise, the team will now continue to work on the company's business plan. Simultaneously, they permanently optimize their measuring system, attend to their internet appearance, company presentation materials and public relation activities, and are on the lookout for more employees.
The start-up plans its first road show to take place in the spring of 2014. Then the prototype will first be taken on a tour through Germany and presented to companies on site. Appearances at Hannover Messe, at the stand of Federal Ministry of Economics and Technology in the sector of "Young Innovative Companies", are to follow. After that, the measurement system will be presented to the public.
Images: Sabine Nollmann