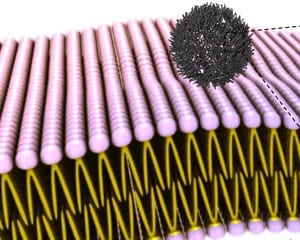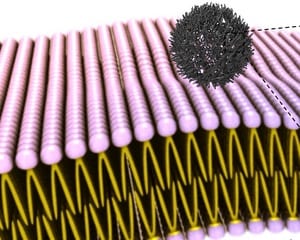 Researchers in Australia have developed a microscopic on-off light to help investigate how drug delivery systems interact with cells. The on-off switch is attached to hollow microspheres engineered for drug delivery. The switch is controlled by altering the pH of the surrounding environment; a sharp change from off to on occurs with more acidic pH.
At neutral pH, similar to what is found in the bloodstream, the walls of the microspheres are densely packed, turning the light (fluorescence) off. When the microspheres move into an acidic environment, such as some cellular subcompartments, they swell up, turning on the fluorescence. Microspheres with the same composition can be prepared with different sizes, all of which retain the same on-off switch. Microspheres of different sizes can be incubated with cells to investigate the role size plays in the cell uptake of these drug delivery vehicles.
As the microspheres are internalized, they enter an acidic environment and begin to fluoresce. The smaller the microsphere, the quicker it is internalized by the cells. This new development will allow researchers to probe the interaction of particle-based materials with cells and lead to a better understanding of drug delivery mechanisms.