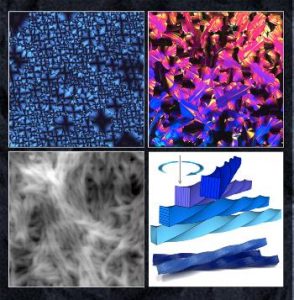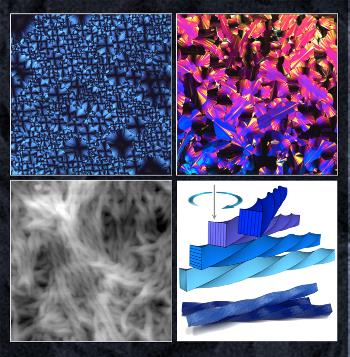 Liquid crystals with a bent-core have revolutionized research in soft condensed matter chemistry and physics. A remarkable example is the recently discovered twisted helical nanofilament (HNF) phase for bent-core liquid crystals with not just one,1 but two chiral twists.2 In a new manuscript in Small, Hegmann and coworkers present a heretofore never reported dual modulated HNF phase with a local columnar structure (HNFmod2) that is only formed by unichiral bent-core derivatives.
This phase is additionally characterized by the formation of exclusively homochiral helical nanofilaments, left- or right-handed, depending on the configuration of the two enantiomeric materials as determined by polarized optical microscopy, transmission electron microscopy (TEM), circular dichroism (CD) spectropolarimetry, and synchrotron small angle X-ray diffraction experiments. In addition, TEM studies confirm that the homochiral HNFs display a secondary twist that solely depends on the twist sense of the individual HNFs (right-handed HNFs assemble via right-handed and left-handed HNFs via left-handed secondary twist; just like B-DNA in crystals), ultimately leading to a blue structural color. The authors also describe the first instance of two chiral liquid crystal phases only differing in their twist sense that do not mix and form an entirely new phase with completely different structural features and properties in the contact zone.3
1 Science 2009, 325, 456-460.
2 Nat. Commun. 2014, 5, 3302.
3 Hegmann et al., Small 2016, smll.201600882