Since 2012 Advanced Healthcare Materials has been bringing you the latest breakthroughs in biomedical materials science with a strong focus on improving human health. It will continue to do so in 2018. We have therefore launched virtual issues on five hot topics in the field, where you can access some of our best recent papers free of charge!
No access to our published content yet? Make sure to recommend Advanced Healthcare Materials to your librarian. More information can be found here.
In this feature, we highlight the artwork on the covers of the most recent issues of Advanced Healthcare Materials, and of course the research behind it. You can find the latest issues here and here. Click on the titles or cover images below to get to the corresponding papers. Also check out our previous cover art feature.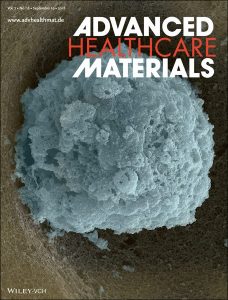 The Effect of Addition of Calcium Phosphate Particles to Hydrogel‐Based Composite Materials on Stiffness and Differentiation of Mesenchymal Stromal Cells toward Osteogenesis
by Kshama S. Sen, Daniela F. Duarte Campos, Marius Köpf, Andreas Blaeser and Horst Fischer
In this article by Horst Fischer and co‐workers, single human mesenchymal stromal cells (hMSCs) show calcification triggered by a surrounding composite hydrogel, made of agarose and β‐tricalcium phosphate nanoparticles. As well as exhibiting enhanced mechanical stability, these scaffolds in the presence of calcium phosphate particles lead to better osteogenesis of hMSCs.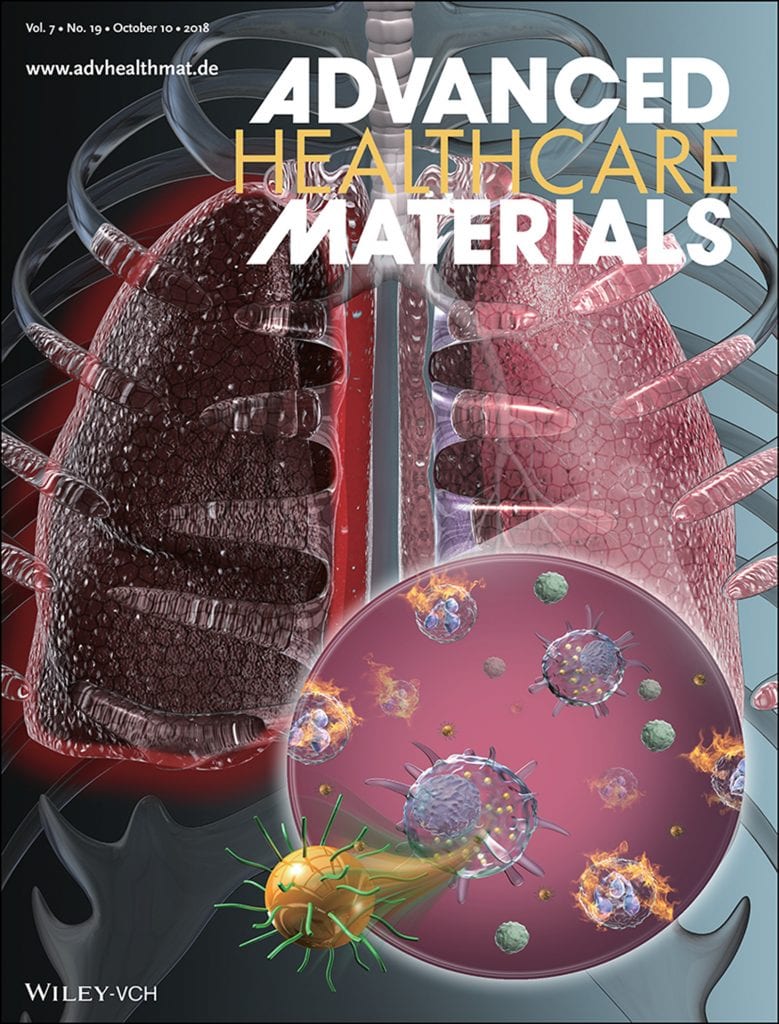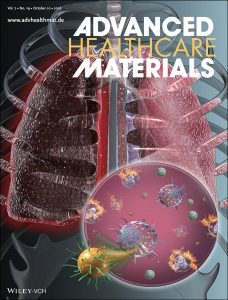 Peptide–Gold Nanoparticle Hybrids as Promising Anti‐Inflammatory Nanotherapeutics for Acute Lung Injury: In Vivo Efficacy, Biodistribution, and Clearance
by Ye Xiong, Wei Gao, Fan Xia, Yi Sun, Liya Sun, Ling Wang, Suqin Ben, Stuart E. Turvey, Hong Yang and Qiang Li
Hong Yang, Qiang Li, and co‐workers, report a unique class of peptide‐decorated gold nanoparticles that can target pulmonary phagocytic immune cells, to reduce lung inflammation through inhibiting TLR4 signaling, decreasing the neutrophil infiltration, and increasing the number of regulatory T cells. The nanoparticles can then be rapidly and effectively excreted with minimum accumulation in the liver and spleen.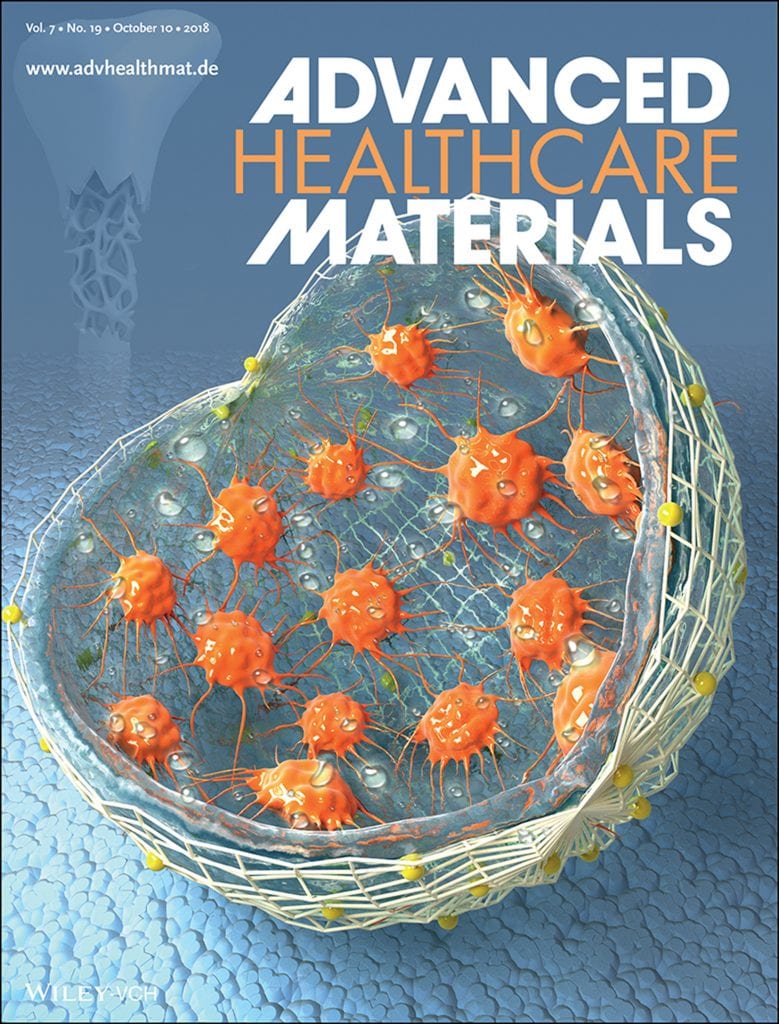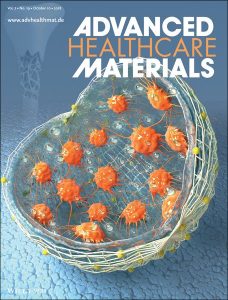 Embryonic‐Like Mineralized Extracellular Matrix/Stem Cell Microspheroids as a Bone Graft Substitute
by Cuicui Fu, Dan Luo, Min Yu, Nan Jiang, Dawei Liu, Danqing He, Yu Fu, Ting Zhang, Yiqiang Qiao, Yanheng Zhou and Yan Liu
Yanheng Zhou, Yan Liu, and co‐workers, fabricate embryonic‐like mineralized extracellular matrix/stem cell microspheroids (MECS), which provide a physiological microenvironment conducive to intracellular communication and osteogenesis, leading to excellent bone regeneration outcomes. This study demonstrates the feasibility of MECS transplantation as a promising scaffold‐free strategy for cell‐based bone regenerative therapy in tissue engineering.
Interested in more news about Advanced Healthcare Materials? Also check out our previous cover art feature.

We recently have released top-level special issues on biomimetic interfaces in biomedical devices, microphysiological analytic platforms (MAPs): precision organs on chip and combatting infections with nanomedicine.
Discover our new virtual issues now too and read selected articles on nanotherapeutics, regenerative medicine, biofabrication, stem cells, and diagnostic devices  for free.