Advanced Healthcare Materials celebrates its 5th birthday this year! Since 2012 we have been bringing you the latest breakthroughs in biomedical materials science with a strong focus on improving human health, and we will continue to do so in 2017. Read more about this in our latest editorial.
No access to our published content yet? Make sure to recommend Advanced Healthcare Materials to your librarian. More information can be found here.
In this biweekly feature, we highlight the artwork on the covers of the most recent issue of Advanced Healthcare Materials, and of course the research behind it. You can find this week's issue here. Click on the titles or cover images below to get to the corresponding papers. Also check out our monthly top-downloaded papers feature here.
Damage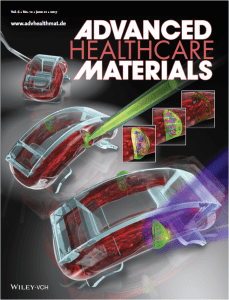 , Healing, and Remodeling in Optogenetic Skeletal Muscle Bioactuators
by Ritu Raman, Lauren Grant, Yongbeom Seo, Caroline Cvetkovic, Michael Gapinske, Alexandra Palasz, Howard Dabbous, Hyunjoon Kong, Pablo Perez Pinera, and Rashid Bashir
Biological materials can adaptively respond to their environment, motivating their use as functional components of engineered machines. Rashid Bashir and his colleagues from the University of Illinois at Urbana-Champaign present a skeletal muscle-powered bio-hybrid robot ("bio-bot") that can adapt to loss-of-function damage stimuli, completely healing and recovering functionality within two days. This presents a significant step forward in developing robust, resilient, and dynamically responsive biohybrid machines.
Extrusion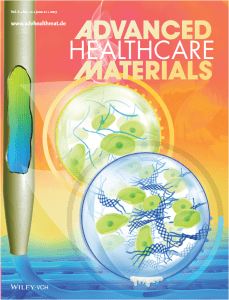 Bioprinting of Shear-Thinning Gelatin Methacryloyl Bioinks
by Wanjun Liu, Marcel A. Heinrich, Yixiao Zhou, Ali Akpek, Ning Hu, Xiao Liu, Xiaofei Guan, Zhe Zhong, Xiangyu Jin, Ali Khademhosseini, and Yu Shrike Zhang
A novel strategy to directly bioprint cell-laden gelatin methacryloyl (GelMA) constructs using bioinks of GelMA physical gels (GPGs) is developed by Yu Shrike Zhang, Ali Khademhosseini and their collaborators at Harvard Medical School, Massachusetts Institute of Technology, Donghua University, University of Twente, Istanbul Yeni Yuzyil University and Beihang University. Attributed to their shear-thinning and self-healing properties, GPG bioinks containing down to 3% GelMA can retain shape and form integral structures after deposition, allowing for subsequent UV-crosslinking for chemical stabilization.
Review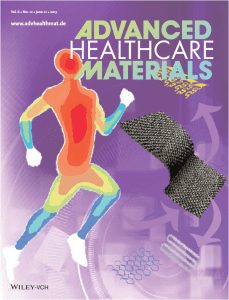 of Flexible Temperature Sensing Networks for Wearable Physiological Monitoring
by Qiao Li, Li-Na Zhang, Xiao-Ming Tao, and Xin Ding
Wearable temperature detection requires sensors for continuous measurements with sufficient sensitivity and accuracy, which directly can attach to non-planar skin surfaces, for different gestures and motions. Xin Ding, Xiao-Ming Tao and their co-workers at Donghua University and the Hong Kong Polytechnic University performed a comprehensive investigation into the recent advances in flexible and stretchable temperature sensor networks for wearable physiological monitoring, with an emphasis on critical issues and new trends.