Since 2012 Advanced Healthcare Materials has been bringing you the latest breakthroughs in biomedical materials science with a strong focus on improving human health. It will continue to do so in 2018. We have therefore launched virtual issues on five hot topics in the field, where you can access some of our best recent papers free of charge!
No access to our published content yet? Make sure to recommend Advanced Healthcare Materials to your librarian. More information can be found here.
In this feature, we highlight the artwork on the covers of the most recent issues of Advanced Healthcare Materials, and of course the research behind it. You can find the latest issue here. Click on the titles or cover images below to get to the corresponding papers. Also check out our previous cover art feature.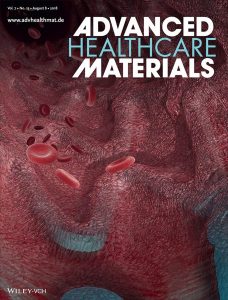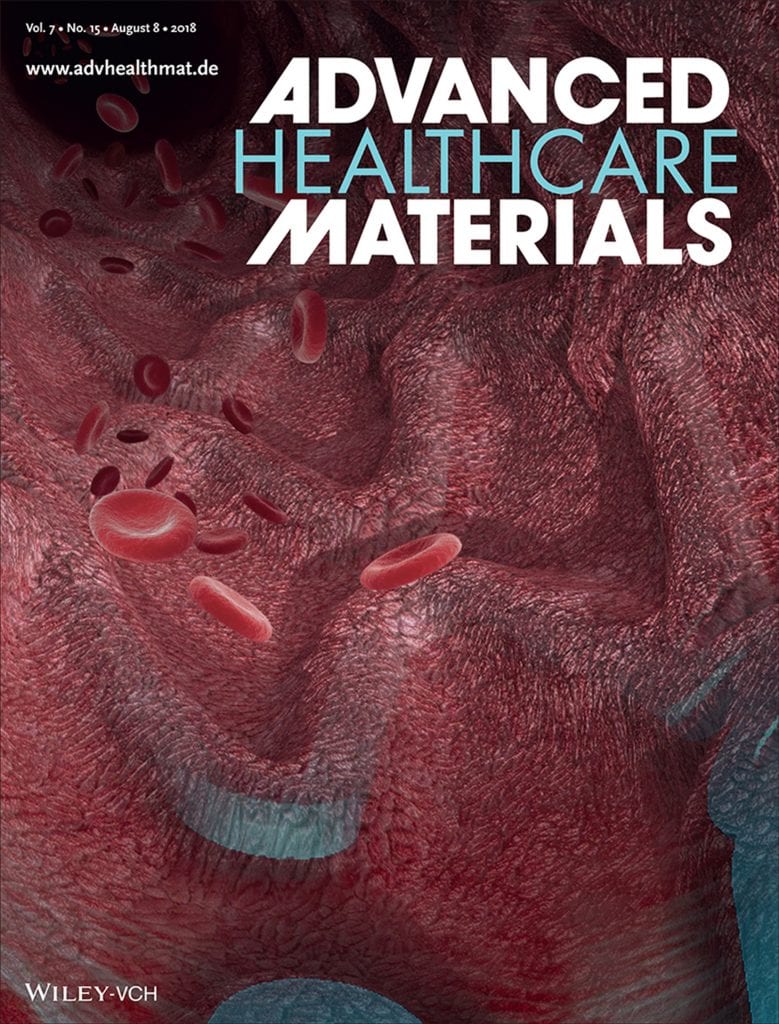 Arsenic Trioxide–Coated Stent Is an Endothelium‐Friendly Drug Eluting Stent
by Yinping Zhao, Ruolin Du, Tian Zhou, Dongchuan Yang, Yuhua Huang, Yi Wang, Junli Huang, Xiaoyi Ma, Fugui He, Juhui Qiu and Guixue Wang
Traditional drug‐eluting stents often delay endothelialization whilst inhibiting intimal hyperplasia. In their article, Juhui Qiu, Guixue Wang, and co‐workers describe an arsenic trioxide‐elutin g stent that  effectively facilitates rapid re‐endothelialization whilst preventing in‐stent restenosis.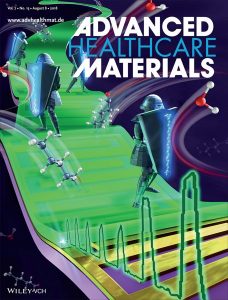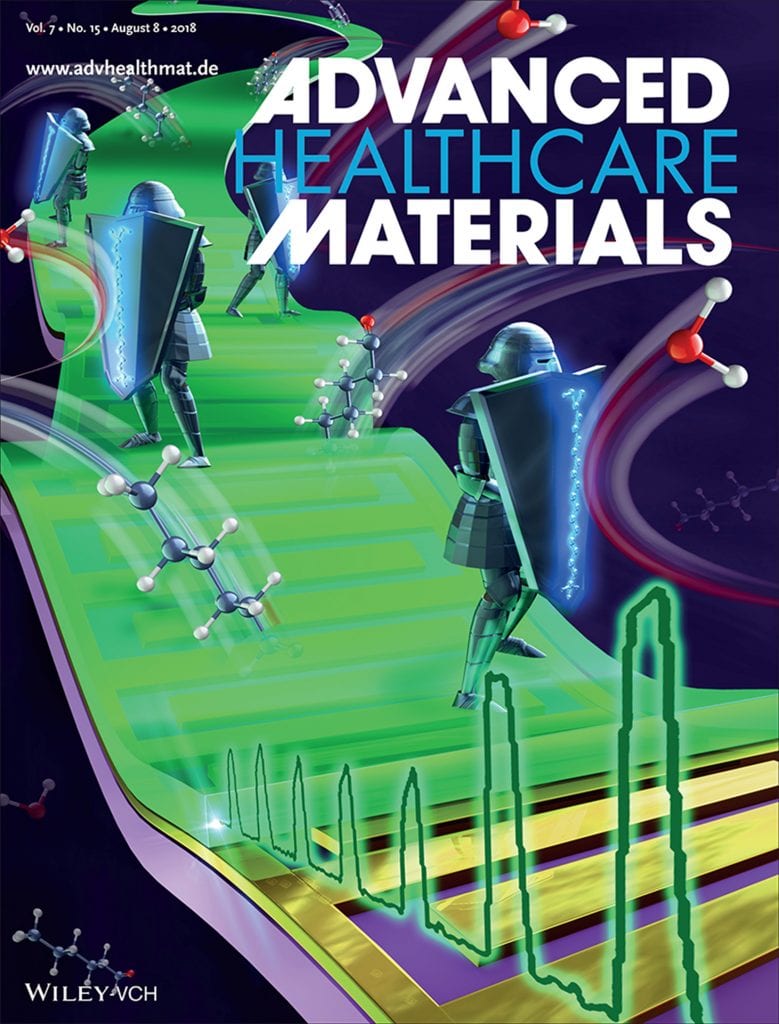 Chemically Modified Polyaniline for the Detection of Volatile Biomarkers of Minimal Sensitivity to Humidity and Bending
by Yunfeng Deng, Jiaxing Sun, Han Jin, Muhammad Khatib, Xianhui Li, Zongsu Wei, Feng Wang, Yehu David Horev, Weiwei Wu and Hossam Haick
In their article, Weiwei Wu, Hossam Haick, and co‐workers propose a strategy of oleic acid molecular layer assembly on PANI‐based flexible sensors to achieve tolerance of mechanical bending and humidity effects, up to 350 ppm. These results trigger the real application of flexible sensor applications in wearable devices for disease diagnostics.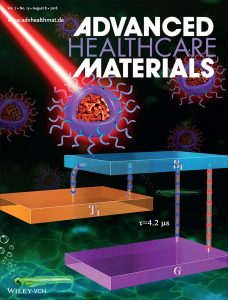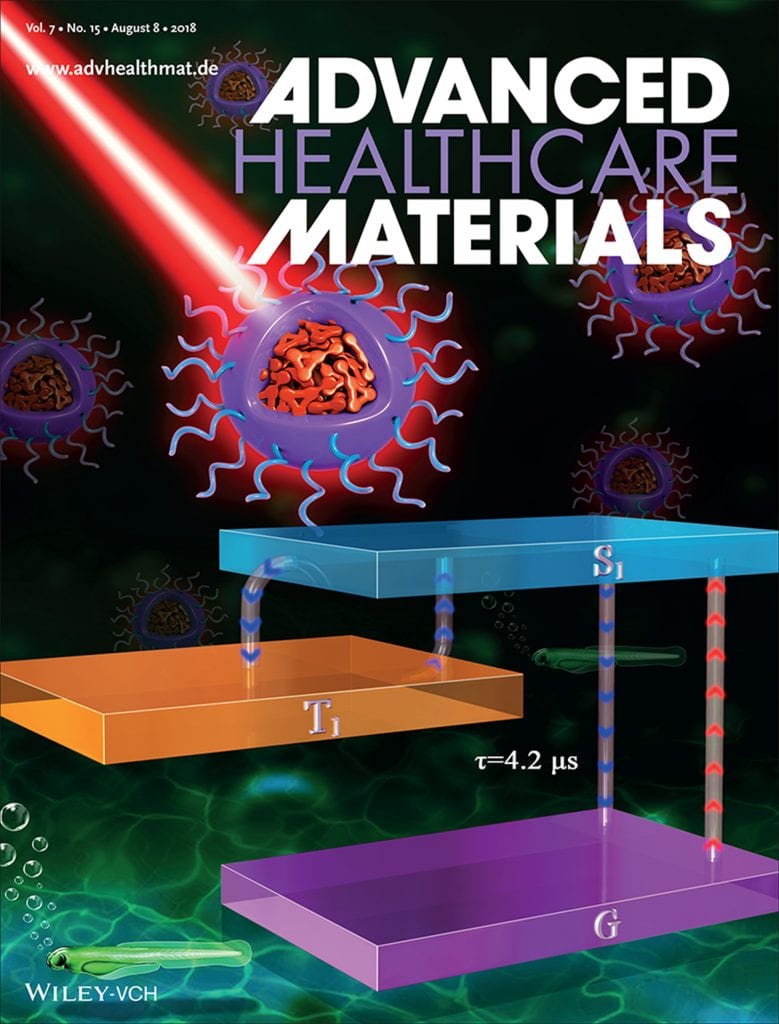 Maximizing Aggregation of Organic Fluorophores to Prolong Fluorescence Lifetime for Two‐Photon Fluorescence Lifetime Imaging
by Wenbo Hu, Lihong Guo, Lei Bai, Xiaofei Miao, Yun Ni, Qi Wang, Hui Zhao, Meng Xie, Lin Li, Xiaomei Lu, Wei Huang and Quli Fan
Lin Li, Wei Huang, Quli Fan, and co‐workers, report a simple approach to fabricate a water‐soluble organic semiconducting nanoparticle for in vivo two‐photon fluorescence lifetime imaging. The as‐prepared nanoparticles not only have strong two‐photon absorption but also exhibit an ultra‐long, yet oxygen‐inert, fluorescence lifetime.
Interested in more news about Advanced Healthcare Materials? Also check out our previous cover art feature.
We recently have released top-level special issues on biomimetic interfaces in biomedical devices, microphysiological analytic platforms (MAPs): precision organs on chip and combatting infections with nanomedicine.
Discover our new virtual issues now too and read selected articles on nanotherapeutics, regenerative medicine, biofabrication, stem cells, and diagnostic devices  for free.