Researchers at Aalto University, in Espoo in Finland, unravel the design principles of unusual dual superlyophobic surfaces in oil–water systems in work published in Advanced Materials, where they prepare thermodynamically unusual surfaces that possess two contradictory wetting properties: superhydrophobicity under oil and superoleophobicity under water. These surfaces are prepared by the combination of re-entrant topography and delicately matched surface chemistry, relying on two key design criteria and employing a metastable state effect in the solid–oil–water systems.
When in contact with water and oil, surfaces are usually either hydrophilic/oleophobic (preferential wetting by water, e.g., mica) or oleophilic/hydrophobic (preferential wetting by oil, e.g., poly(tetrafluoroethylene). Consequently, superhydrophobicity under oil (where the water contact angle in oil on a surface is greater than 150°) and superoleophobicity under water (where the oil contact angle in water is greater than 150°) have been previously regarded as contradictory to each other and have not been expected to be present for the same surface.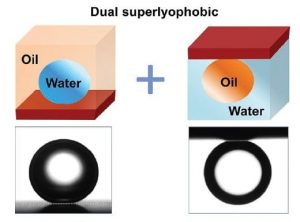 Two design criteria for these new "dual superlyophobic" surfaces (i.e., both superhydrophobic under oil and superoleophobic under water) are proposed: i) the liquid-filling criterion and ii) the steady-composite-interface criterion; i.e., i) microstructures must be readily filled by water or oil without a layer of trapped air when they are submerged in one of the two liquids; and ii) the submerged microstructures must be able to support stable oil–water interfaces when the second liquid is introduced: the second liquid can be suspended by the texture rather than intruding into the texture. These design criteria lead to a stable trapping of airless oil and water films within the surface texture, and such liquid films enable both superhydrophobicity under oil and superoleophobicity under water.
This work uncovers an unusual wetting phenomenon that breaches conventional wisdom. Moreover, the design strategy presented paves the way for creating dual superlyophobic materials in oil–water systems. It is hoped that this will lead to unique applications in various fields involving multiphase fluids, such as marine antifouling, oil–water separation, and microfluidic devices. The study also emphasizes the importance of taking the history of the surface into careful consideration (i.e., whether it enters an oil or water medium first) when studying the behavior of various solid–oil–water systems (e.g., oil recovery, particle phase transfer, liquid–liquid interface assembly, etc.).