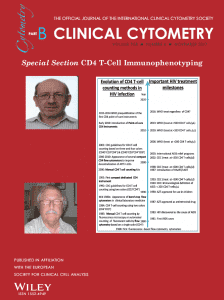 According to UNAIDS, approximately 36.7 million people worldwide were living with HIV/AIDS at the end of 2016, with 2.1 million of those patients being children. Since the beginning of this widespread epidemic in the mid- to late 1970s, HIV has moved from the category of a deadly disease to a manageable chronic condition thanks to advances in early diagnosis, prevention, and development of anti-retroviral drugs.
CD4 T-cells are an important component of the immune system and play a critical role in the adaptive immune system. Prior to discovering the virus, counting these cells was the surrogate marker for AIDS.
For nearly 35 years, CD4 T-cells and their immunephenotyping and enumeration were the focal points of HIV/AIDS research. The rapid progress in this field has helped many HIV-infected patients by allowing scientists, doctors, and the pharmaceutical industry to develop effective diagnostic, treatment and prevention tools to manage the HIV/AIDS infection.
In the December 2017 issue of the Clinical Cytometry, guest editors Luc Kestens and Frank Mandy introduce the special section entitled CD4 T-Cell Immunophenotyping.
In the Issue Highlights for this section and review article, "Thirty-five years of CD4 T-cell counting in HIV infection: From flow cytometry in the lab to point-of-care testing in the field", the guest editors discuss the history of CD4 T-cell enumeration. They also address state-of-the-art developments in this field: automated count systems and assays, statistical methods, and importance of training skilled operators for these tools in order to achieve maximum success.
Moreover, these aspects are addressed in a more specific detail in a review article by Diallo and co-workers, "Automation for clinical CD4 T-cell enumeration, a desirable tool in the hands of skilled operators",  and another four original articles.