(Copyright Yanshan University, used here with permission. Please click here to watch the video on Youku if you are unable to access Youtube)
As a newly rediscovered two-dimensional (2D) material, phosphorene, or single layer black phosphorus (BP), has already found wide application in electronics, photonics, energy devices, just to name a few. Now, Zhongyuan Liu, Fusheng Wen, and and co-workers at Yanshan University, China,
take liquid-exfoliated black phosphorus (BP) nanoflakes to make flexible all-solid-state supercapacitors
, where BP-deposited polyethylene terephthalate (PET) substrates serve as electrodes.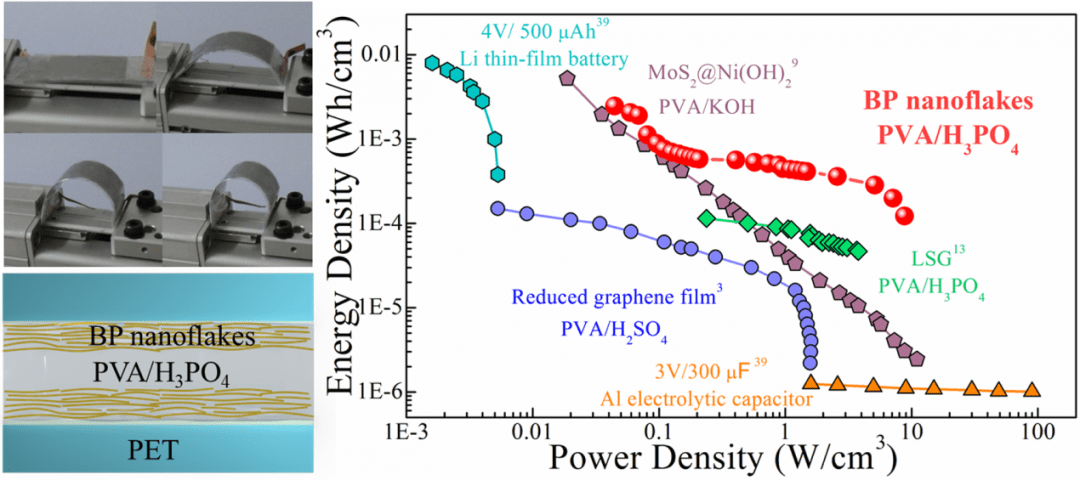 The prepared devices show excellent specific volumetric capacitance (13.75 F cm-3), power density (8.83 W cm-3), energy density (2.47 mWh cm-3), extremely long life span of over 30 000 cycles without obvious decay, and outstanding flexibility of sustaining heavily bending test for more than 5,000 times with no sign of failure, well surpassing their counterparts built on 2D elemental graphene. Upon further optimization of fabrication parameters, including electrical conductivity and the density of BP films, device performance is expected to take another leap, getting closer to practical applications of BP nanoflakes as flexible electrode materials in future wearable devices.