Cell membrane-coated nanoparticles are a new class of drug delivery carrier that combine both natural and synthetic elements. On the inside is a nanoscale core, capable of being loaded with potent drugs or imaging agents, while the outside consists of a layer of membrane derived from cells. Thus far, a wide range of different cell types, including red blood cells, platelets, white blood cells, cancer cells, and bacteria, have been used as a source for the membrane material, and each brings with it unique advantages when used to coat the surface of a nanoparticle. For example, red blood cell membrane-coated nanoparticles can circulate for extended periods of time within the body, and platelet membrane-coated nanoparticles can target important disease substrates such as atherosclerotic plaques.
In their recent work, Dehaini et al. report on a novel type of hybrid nanomaterial that combines the membranes from multiple cell types, enabling the fabrication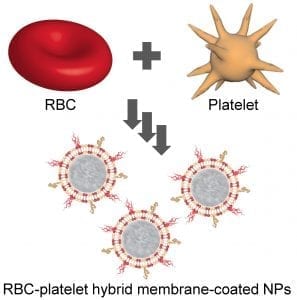 of membrane-coated nanoparticles with an increased number of functionalities. This is accomplished through the fusion of a red blood cell membrane with a platelet membrane, followed by coating onto a biodegradable polymeric core. The resulting hybrid membrane-coated nanoparticles simultaneously exhibit properties that are unique to each cell type; these include functions that can potentially be used for targeted cancer therapy, detoxification, and cardiovascular treatments. The reported approach can potentially be applied towards any combination of natural membranes from different cells, and this will further allow engineers to custom-design new nanoformulations for a wide array of medical applications.