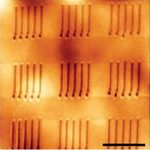 A new method of making ferroelectrics that uses a heated probe tip means they can be produced directly on virtually any substrate including plastic, glass, and silicon, and in any shape that can be drawn with the probe.
Ferroelectric materials are great for making nanoscale smart devices because they have switchable spontaneous polarization, and can be used to generate pyroelectricity and piezoelectricity. However most ferroelectric materials can only be patterned onto substrates that are epitaxial, i.e., those that consist of only one ordered crystal type. Many substrates commonly in use for nanoscale engineering do not fit this criterion and so cannot be used to support ferroelectrics, which limits the usability of ferroelectrics in devices enormously.
Now, scientists led by Suenne Kim and Nazanin Bassiri-Gharb at Georgia Institute of Technology, USA, have found a way around this limitation to directly make lines and arbitrary shapes from lead-based ferroelectric materials on plastic, glass, and silicon. The simple three-step procedure involves depositing a sol-gel precursor compound, heating, and local crystallization of the ferroelectric film on the substrate. The scientists use an atomic force microscopy (AFM) tip to induce the crystallization, which makes the method very versatile (virtually any shape can be drawn with the tip) and precise, as well as ensuring that it is compatible with many substrate types and existing device-processing techniques such as complementary metal oxide–semiconductor (CMOS). In particular the high resolution and alignment of ferroelectric lines produced by the AFM tip should allow complex multilayer devices to be created.
The scientists believe that their method will enable next-generation nanoelectromechanical sensors and actuators and energy-harvesting devices to be created as well as allowing simpler fundamental studies of ferroelectric materials.