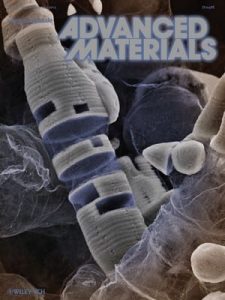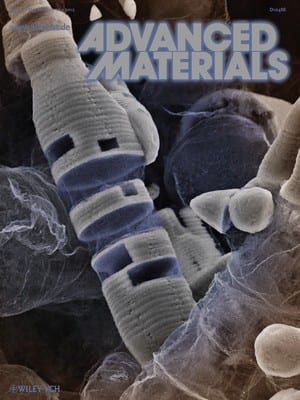 It's a new top 40 and a new top 3 this week, with a distinctly nano theme: work on making and using gold nanorods comes in at number one.
Numbers 2 and 3 are both energy-related; an Indian research team discusses engineering their energy-storing hybrid nanostructures at number 2, while number 3 sees an MIT group construct polymer-free, carbon-based photovoltaics; these devices have no polymeric active or transport layer, instead relying on the electronic properties of a carbon nanotube – fullerene interface to produce voltage.
Also, this week's number 15 – A Brief Guide to Designing Effective Figures for the Scientific Paper – forms the basis for the first MaterialsViews online event, taking place on July the 16th. Please visit this page if you would like to attend.
| Rank | Article | Position last week | Change | Weeks in the Top 40 | |
| --- | --- | --- | --- | --- | --- |
| 1 | Functional Gold Nanorods: Synthesis, Self‐Assembly, and Sensing Applications | – | | 1 | Tweet |
| 2 | Hybrid Nanostructures for Energy Storage Applications | – | | 1 | Tweet |
| 3 | Polymer‐Free Near‐Infrared Photovoltaics with Single Chirality (6,5) Semiconducting Carbon Nanot | – | | 1 | Tweet |
| 4 | Towards Textile Energy Storage from Cotton T‐Shirts | 39 | +35 | 2 | Tweet |
| 5 | Generation of a Library of Non‐Toxic Quantum Dots for Cellular Imaging and siRNA Delivery | – | | 1 | Tweet |
| 6 | Aerographite: Ultra Lightweight, Flexible Nanowall, Carbon Microtube Material with Outstanding Mecha | 24 | +18 | 3 | Tweet |
| 7 | Toward Robust Nanogenerator Using Aluminum Substrate | – | | 1 | Tweet |
| 8 | A Solid‐State Plasmonic Solar Cell via Metal Nanoparticle Self‐Assembly | – | | 1 | Tweet |
| 9 | Highly Stretchable and Highly Conductive Metal Electrode by Very Long Metal Nanowire Percolation Net | 25 | +16 | 2 | Tweet |
| 10 | Graphene Oxide as an Optical Biosensing Platform | 27 | +17 | 2 | Tweet |
| 11 | Bio‐Inspired Nacre‐like Composite Films Based on Graphene with Superior Mechanical, Electrical, | – | | 1 | Tweet |
| 12 | Transfer‐Printing of As‐Fabricated Carbon Nanotube Devices onto Various Substrates | – | | 1 | Tweet |
| 13 | Engineering the Electronic Structure of Graphene | – | | 1 | Tweet |
| 14 | Whitesides' Group: Writing a Paper | 13 | –1 | 8 | Tweet |
| 15 | A Brief Guide to Designing Effective Figures for the Scientific Paper | – | | 1 | Tweet |
| 16 | Graphene and Graphene Oxide: Synthesis, Properties, and Applications | 5 | –11 | 8 | Tweet |
| 17 | Improving the Ordering and Photovoltaic Properties by Extending π–Conjugated Area of Electron‐D | 2 | –15 | 2 | Tweet |
| 18 | Novel Highly Conductive and Transparent Graphene‐Based Conductors | 3 | | 5 | Tweet |
| 19 | Near‐Infrared Light‐Responsive Intracellular Drug and siRNA Release Using Au Nanoensembles with | 18 | –1 | 2 | Tweet |
| 20 | Engineering Plasmonic Gold Nanostructures and Metamaterials for Biosensing and Nanomedicine | – | | 1 | Tweet |
| 21 | Oxide Semiconductor Thin‐Film Transistors: A Review of Recent Advances | 6 | –15 | 8 | Tweet |
| 22 | Self‐Healing of Covalently Cross‐Linked Polymers by Reshuffling Thiuram Disulfide Moieties in Ai | – | | 1 | Tweet |
| 23 | Formation of ZnMn2O4 Ball‐in‐Ball Hollow Microspheres as a High‐Performance Anode for Lithium-ion batteries | – | | 1 | Tweet |
| 24 | Highly Stable Air Working Bimorph Actuator Based on a Graphene Nanosheet/Carbon Nanotube Hybrid Elec | – | | 1 | Tweet |
| 25 | Nanocomposite Microcontainers | – | | 1 | Tweet |
| 26 | Mesoporous Silica Nanoparticles: Synthesis, Biocompatibility and Drug Delivery | 16 | –10 | 8 | Tweet |
| 27 | "Cut and Stick" Rubbery Ion Gels as High Capacitance Gate Dielectrics | – | | 1 | Tweet |
| 28 | Post‐Deposition Treatment of an Arylated‐Carbazole Conjugated Polymer for Solar Cell Fabrication | – | | 1 | Tweet |
| 29 | For the Bright Future—Bulk Heterojunction Polymer Solar Cells with Power Conversion Efficiency of | 26 | –3 | 2 | Tweet |
| 30 | ZnO Hollow Spheres with Double‐Yolk Egg Structure for High‐Performance Photocatalysts and Photod | – | | 1 | Tweet |
| 31 | Enhanced Photocatalytic Hydrogen Generation Using Polymorphic Macroporous TaON | – | | 1 | Tweet |
| 32 | Chemical Patterning and Physical Refinement of Reactive Superhydrophobic Surfaces | – | | 1 | Tweet |
| 33 | Crafting Semiconductor Organic−Inorganic Nanocomposites via Placing Conjugated Polymers in Intimat | – | | 1 | Tweet |
| 34 | Highly Stretchable Alkaline Batteries Based on an Embedded Conductive Fabric | – | | 1 | Tweet |
| 35 | Highly π‐Extended Copolymers with Diketopyrrolopyrrole Moieties for High‐Performance Field‐Ef | 14 | –21 | 3 | Tweet |
| 36 | A New Approach for Probing the Mobility and Lifetime of Photogenerated Charge Carriers in Organic So | – | | 1 | Tweet |
| 37 | Magnetic Properties of Crystalline and Amorphous Phase‐Change Materials Doped with 3d Impurities | – | | 1 | Tweet |
| 38 | Large Enhancement of Upconversion Luminescence of NaYF4:Yb3+/Er3+ Nanocrystal by 3D Plasmonic Nano-antennas | – | | 1 | Tweet |
| 39 | Dual Plasmonic Nanostructures for High Performance Inverted Organic Solar Cells | 12 | –27 | 8 | Tweet |
| 40 | On the Origin of Contact Resistances of Organic Thin Film Transistors | – | | 1 | Tweet |