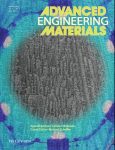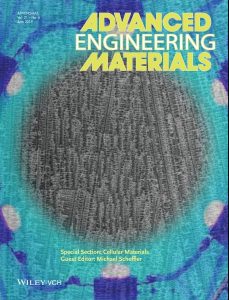 2019 marks the 20th anniversary of many things, notably the introduction of the euro currency, the release of the film The Matrix,  and the loss of filmmaker giant, Stanley Kubrick.
But 2019 is also an exciting year for Advanced Engineering Materials—we are celebrating 20 years of publication, but there is much more to celebrate. For the fifth time in a row, the journal's impact factor has increased and is now 2.906 (+12%, 2018 Journal Citation Reports).
Other highlights this year include the Hall of Fame article series consisting of invited review articles that highlight the work of top scientists in the field of engineering materials. Topics such as ceramics, intermetallics, composites, high-temperature materials, biomedical materials, new manufacturing techniques, processing, and microstructural evolution are covered in these articles to give readers insight into the wide range of topics that are covered in Advanced Engineering Materials (see Keyword cloud). Hall of Fame articles are freely available for a limited time.
Moreover we have also collected a Best of Advanced Engineering Materials virtual issue presenting the editors' choice of some of the most outstanding articles – all articles can be read for free.
Advanced Engineering Materials now offers Accepted Articles. Articles are published online immediately after acceptance, before copy-editing. Accepted Article papers are downloadable and citable.
Recently several Special Sections have been published in AEM, e.g., on Cellular Materials or Advanced Materials for Transport Applications, a Special Section devoted to Peter Greil (on occasion of his 65th birthday), on TRIP Matrix Composites, on Ceramic Matrix Composites or on Stress-Related Phenomena. Several articles from these Special Sections can be read for free for a limited time.
We hope that you enjoy reading our selection of articles and look forward to seeing your best work in Advanced Engineering Materials!