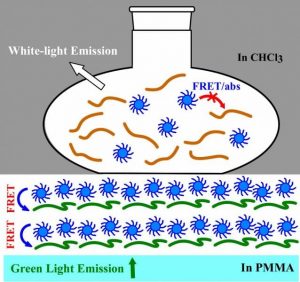 Organic-inorganic nanocomposites offer great opportunities for the development of new functional materials for applications in extremely diverse fields. During the past decades, considerable research has been undertaken to produce tailor-made multifunctional nanocomposites with perfect control over composition, structure and shape. Researchers from Shenzhen University and Nanyang Technological University
Researchers from Shenzhen University and Nanyang Technological University have recently used blue-light emitting quantum dots (QDs) and stilbene units to construct nanocomposites in both solution and solid state films.
The fluorescent properties of the nanocomposites can be conveniently manipulated in the different phases. In solution, white-light fluorescence is achieved. The generation of white-light emission in the nanocomposite solution is obtained through the direct mixture of blue and orange light emission. Whereas in blended films, white-light emission cannot be generated, no matter what donor/acceptor volume ratios are used. However, the nanocomposites present near-unity efficiency of Förster resonance energy transfer from QDs to chromophores, giving rise to strongly enhanced green fluorescence.
While the white-light emitting QDs/stilbene nanocomposites have bright prospect as fluorescence sensors for biological systems, efficient energy transfer in solid film has potentials application in light-harvesting.