On Thursday Berlin saw the award ceremony for six new Humboldt Professorships at German universities, jointly funded by Alexander von Humboldt Foundation, the Ministry for Education and Research and the respective host research institutions. The various activities and international exchange programs of the Humboldt Foundation are well known and appreciated among many scientists from Germany and abroad. This was already the fifth edition to establish the professorships as an excellent tool to attract internationally leading researchers and to create a level of excellence in this country. Consequently, the foundation president Helmut Schwarz and the minister Johanna Wanka emphasized the importance of strong funding for research and development (now having reached the aim of 3% of German GDP), and they both requested, as well as promised, that politics will not slow done these activities in the coming years but rather further expand them.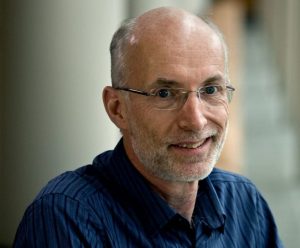 Among the proud winners three prominent physicists were awarded who, interestingly, all work in closely related areas of electronic, magnetic and superconducting materials. Most notably, "star physicist" Stuart Parkin flew in from Helsinki where he had just received, the day before, the 2014 Millenium Technology Prize known to be a Nobel Prize equivalent for technological application achievements. Thanks to Parkin's groundbreaking work at IBM San Jose, today we have high capacity magnetic hard drives in our servers and computers which enable most common internet, social network and big data applications. While his main motivation to come to Germany – as admitted in his acknowledgement speech – has been his fiancée Claudia Felser, also physicist professor in Dresden, as well as being able to drive fast cars on German autobahns, no doubt the generous funding and creative environment is the major attraction. More than 16 million Euros will provide the conditions to work out a long-term research program related to spintronics and nanoscience as Director of the Max Planck Institute for Microstructure Physics and professor at Martin-Luther-University Halle (Saale). In particular, a new center for 'cognitive electronics' is planned to explore new ways for developing revolutionary adaptive and much more energy-efficient devices, basically mimicking certain functions of the human brain. Stuart Parkin is also a member of the Editorial Advisory Board of the Wiley-VCH publication Advanced Materials and is committed to further support the journal family in the area of advanced electronic materials.
Parkin also collaborates with Johannes Gutenberg University Mainz where the second fresh Humboldt professor Jairo Sinova will be located. Sinova comes from Texas A&M University and is most famous for his prediction of the spin Hall effect – experimentally proven in the meantime. In Mainz he will advance the field of magnetic properties of semiconductors and other solid state systems mainly from a theoretical perspective, also through the foundation of a new Humboldt Center for Emergent Spin Phenomena.
Last but clearly not least, the third winner Hidenori Takagi of University of Tokyo and RIKEN Advanced Science Institute in Wako/Saitama most impressed the audience by his almost flawless, Google-translated words in German language. Since the 1980s he has been a major contributor to the discovery and research on high-temperature superconductors. In Stuttgart he will further strengthen the already vibrant field of superconductivity, correlated and other oxide materials at the Max-Planck Institute for Solid State Research and the University.
More information on this great night for German and international science, and on all six award recipients is available here.