Despite being the leading cause of death worldwide, most cardiovascular diseases could be prevented by physiological monitoring over time by wearable devices. The optimum operational requirements for such devices are stability, ultra low power consumption, and high-sensitivity. In addition, they should be suitable for a long-term use and to be patient friendly, e.g., have low weight and miniature design.
The currently used cardiac cycle and heart rate monitoring technologies include for example, the photoplethysmography (PPG), which measures the cardiac pressure pulses by detecting changes in light absorption of the skin. Unfortunately, this system has high energy consumption and is highly sensitive to body movement and ambient light, making a diagnosis based solely on it very difficult.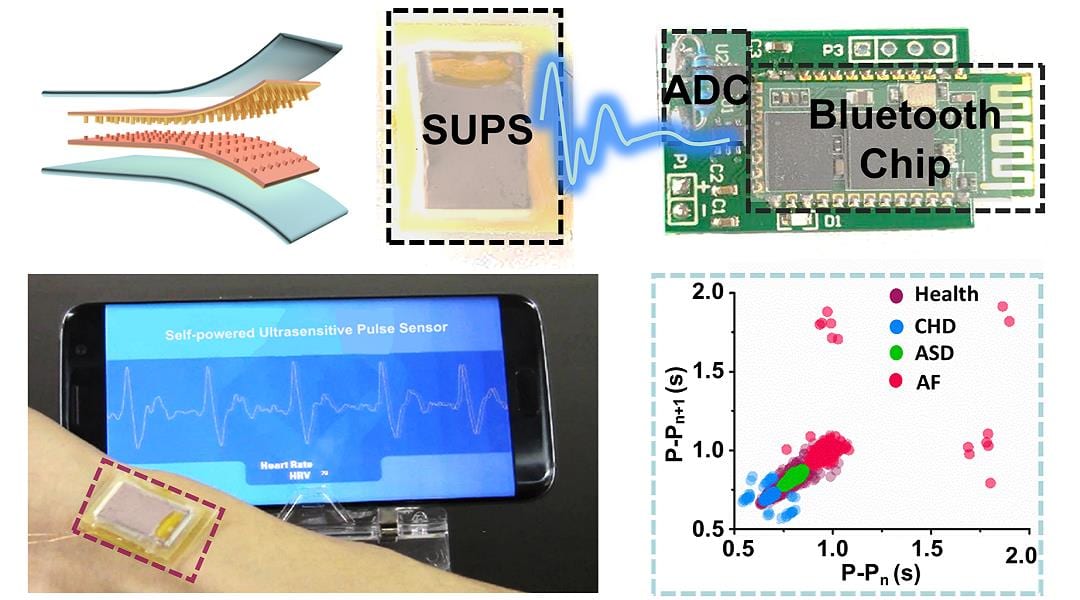 To overcome these drawbacks, researchers from Beijing Institute of Nanoenergy and Nanosystems in cooperation with cardiologists have developed a flexible self-powered ultrasensitive pulse sensor (SUPS) based on a triboelectric nanogenerator (TENG), presented in the recently published article in Advanced Materials.
The specialized design of the device allows it to achieve excellent electrical outputs, high peak signal-to-noise ratio, long-term performance and low cost. Moreover, SUPS can be integrated with a Bluetooth chip to provide accurate, wireless, and real-time monitoring of pulse signals of the cardiovascular systems via a smartphone or PC.
This groundbreaking device is expected to be applied in on-line monitoring, intelligent mobile diagnosis and prevention of various cardiovascular diseases.