Genome editing critically relies on cutting a genomic DNA sequence at the right location. This was difficult to achieve until bacterial CRISPR-associated nucleases were discovered and repurposed for genome editing.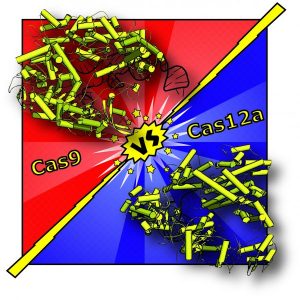 In bacteria, these enzymes target viral DNAs, thereby neutralizing viral infections. CRISPR-associated nucleases use guide RNAs to bind and subsequently cut DNAs whose sequence is complementary to the guide RNAs. For genome editing applications in eukaryotic cells, CRISPR-associated nucleases can be easily programmed by designing guide RNAs that direct these enzymes to target genes. Currently, there are two different types of CRISPR-associated nucleases that are commonly used for genome editing purposes: Cas9 and Cas12a.
The structural features of CRISPR-associated nucleases Cas9 and Cas12a are reviewed in a recent article in WIREs RNA. These features determine the precise activity of these enzymes, including the type of guide RNA that can be bound, how DNA sequences are recognized and bound, and how the target DNA is cut.
Although the overall functionality of Cas9 and Cas12a is remarkably similar, their distinct structural features result in distinct molecular mechanisms that impact their activities. Consequently, these features are important to consider for researchers when they have to choose the most suitable CRISPR-Cas enzyme for genome editing experiments. Understanding the importance of these structural features has furthermore facilitated rational engineering of Cas9 and Cas12a to improve their specificity or expand the spectrum of genomic DNA sites that can be targeted by these enzymes.
Kindly contributed by the Authors.