Smart garments with embedded functionalities for medical data collection are expected to transform healthcare. To this end, a team of researchers from the University of Toronto, led by Professor Hani Naguib from the Department of Materials Science & Engineering, has developed smart textiles to better monitor the electrical impulses that coordinate the heart's contractions.
"The main goal of our research is to develop an effective scalable wearable solution to allow continuous monitoring of the cardiovascular system," explained Ladan Eskandarian, a researcher at U of T and co-author of the study published in Advanced Materials Technologies.  
To construct the fabric, the team recently developed a few types of flexible and conductive polymer-based fibers for the cloth that they "knit" together using a specialized industrial-scale knitting machine. "We tried various knit structures and selected the ones that provided the highest flexibility and breathability," said Eskandarian. "We knitted 3D-shaped electrodes on a compressive band in an underwear garment with the targeted skin-electrode pressure of 20 mmHg."
The textile patches were first tested on the forearms to record cardiac activity or electrocardiogram (ECG) measurements, which showed comparable signal quality to that of the gold standard gel-adhesive electrodes. These conventional electrodes create a wet interface on the skin due to the gel that is applied for transferring electrical charges across the skin. The wet and adhesive interface can cause skin irritation, making their long-term use challenging.
Naguib's team knitted a few smart garments with the smart textiles, which demonstrated excellent functional performance when recording ECG measurements when the wearer assumed different postures.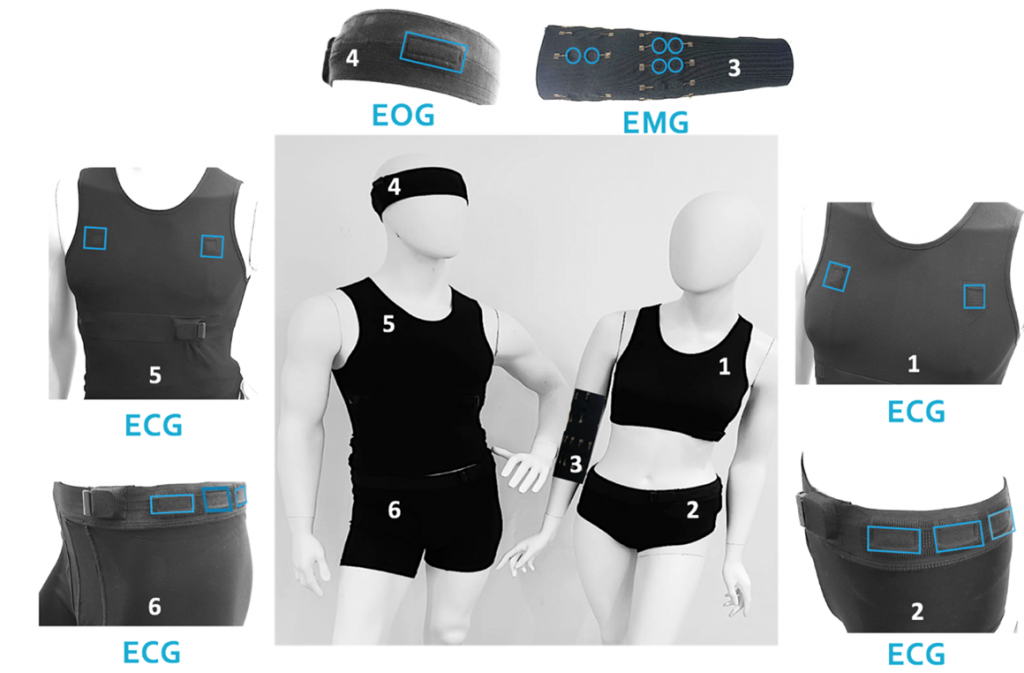 "Five participants wore the textile underwear garment for a 24-hour period. They were instructed to go about their day as they usually would. The data was collected using a wireless data acquisition system developed by Myant Inc. called Skiin pod," explained Eskandarian. "All participants were interviewed to determine if any signs of damage to the skin had been observed." No skin irritation was reported.
"Finally, we tested the performance of the smart garments before and after repetitive laundry cycles and we were able to record high fidelity signals even after 30 wash cycles," she added.
As a result, the smart garments are robust and durable, making them promising for a range of wearable applications, such as remote health monitoring, rehabilitation, and injury prevention.
Reference: Ladan Eskandarian, et al., 3D-Knit Dry Electrodes using Conductive Elastomeric Fibers for Long-Term Continuous Electrophysiological Monitoring, Advanced Materials Technologies (2022). DOI: 10.1002/admt.202101572