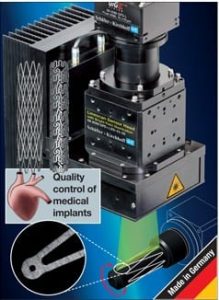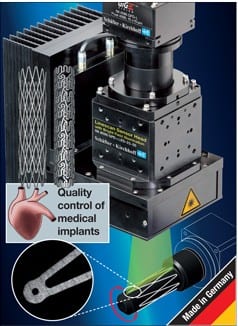 New Scan-Macroscope with integrated bright-field illumination and telecentric lens for the automated quality control of the geometry and texture of stents.
A stent is a medical implant, which is inserted in e.g. coronary vessels in order to keep them open or to counteract flow constrictions, or is used for keeping open the esophagus. Every year several 100.000 stents are implanted in Germany alone. In order to fulfill the specific needs of the various fields of use, stents come in many different shapes and sizes. Contrary to popular belief. stents are not only used for the elderly, but for people of all ages (from toddlers to senior citizens).
The tubular structure of a stent is based on a metal mesh of thin wire and can be recorded with a measuring range of 80 mm and a resolution of 10 µm by the Scan-Macroscope. The stent is imaged during motorized rotation while the signal is recorded by a line scan camera and a planar 2D image of the unwound mesh structure is acquired. Unlike usual endocentric lenses, a telecentric lens allows an image free from parallaxes without perspective distortions, which is essential for the inspection of the geometry of the stents, especially for the web width. The integrated bright-field illuminationenables the visualization of fine surface textures of stents made of various alloys.
Schäfter + Kirchhoff GmbH
Kieler Straße 212
22525 Hamburg, Germany
Phone: +49 (0)40 853997-0
Fax: +49 (0)40 853997-79
E-mail: [email protected]
Website: www.SuKHamburg.de