Stretchable electronic devices show remarkable application potentials in a wide range of fields spanning from we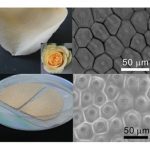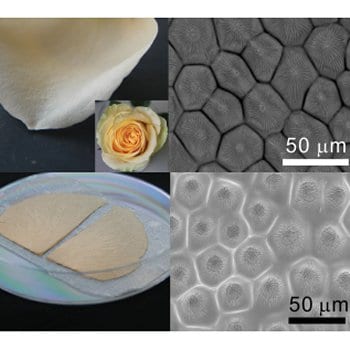 arable electronics, biomedical diagnosis and actuation, to robotics, fashion and textiles. State-of-the-art technologies use flat elastic substrates for making these devices, in which complicated lithographic design and fabrication are required.
Researchers around Zijian Zheng (Hong Kong Polytechnic University) and Feng Zhou (Lanzhou Institute of Chemical Physics) now address this challenge by using non-planar elastic substrates with topographical structures replicated from natural rose petals. Compared with conventional flat polydimethylsiloxane substrates the bio-mimicking topography of this elastomeric petal substrate (E-petal) can effectively stop crack propagation of non-stretchable materials, regardless of the type of conductive materials (metals and conducting polymers) and the deposition methods.
This work makes a very significant contribution in the field of omnidirectional stretchable and printable electronics devices as it shows convincingly that the natural world can provide topographically structured materials of suitable length scales.
Read the whole story now for free!
——
Advanced Science is a new journal from the team behind Advanced Materials, Advanced Functional Materials, and Small. The journal is fully Open Access and is free to read now at www.advancedscience.com.