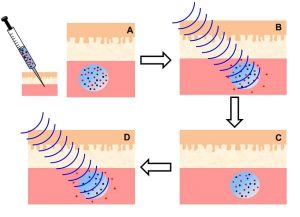 A team at the University of Kentucky have developed a drug delivery system than can be switched on and off remotely. In their new proof of concept paper appearing in the first issue of Advanced Healthcare Materials, J. Zach Hilt and co-workers show that iron oxide nanoparticles can be used to provide a local source of heating in a thermoresponsive sol–gel copolymer solution.
At body temperature the composite gels to entrap drug. Application of an alternating magnetic field causes nanoscale heating of the system; at the upper transition temperature, the composite becomes liquid again, releasing trapped drug. Removal of the magnetic field returns the gel to body temperature, entrapping the remaining drug. A fresh dose of drug can be released by switching on the magnetic field once again.
This system can not only be switched on and off remotely but is also injectable and degrades with time.