Obtaining high yields in agricultural production is essential due to the world's population growth and increased food demand; but at the same time, adverse effects of agriculture on the environment need to be kept to a minimum.
Low temperature plasmas (LTPs) show promise as efficient green technologies for enhancing productivity while maintaining good food quality and safety in the many steps of the food cycle. As a result, applications of LTPs in agriculture have led to creation of a new, rapidly developing field called "plasma agriculture."
Increasing agricultural productivity—caused by population growth—and closing the yield gap between real yields and potential yields plus taking into account protection of the environment, must be addressed with novel approaches.
One such approach is to use LTPs in agriculture ("Plasma Agriculture"), whereby plasma can boost yield in a robust way without demanding more water or more chemical fertilizer. In other words, Plasma Agriculture potentially offers increased production with less impact on ecosystem, by suppressing plant diseases and enhancing crop yields.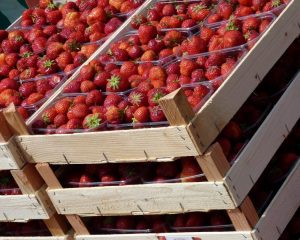 For a long time the link between plasmas and food processing was limited to the treatment of packaging materials to improve, for examples, wettability, sealability, printability, and barrier properties, or for purposes of decontamination.
More recently, from the mid-2000s onwards, the capability of plasma as an antimicrobial agent has been explored for the sanitation of food products. Indeed, the emergence of new pathogens that can contaminate products, change production processes, and consumer lifestyles and needs, are posing unprecedented new challenges.
A review by Nevena Puac, Matteo Gherardi and Matteo Gherardi details the promising results published in many studies, that report the wide variety of applications of plasma. This review places plasma agriculture in the spotlight and hints at the use of LTPs to boost real agricultural productivity in the near future.
To achieve this goal, collaborations between plasma research scientists, plant biologists, agricultural experts, and food technologists will be needed to understand, control, and scale up these new processes.
Read more about this rapid emergence in the latest special issue of Plasma Processes and Polymers on 'Plasma Agriculture'.