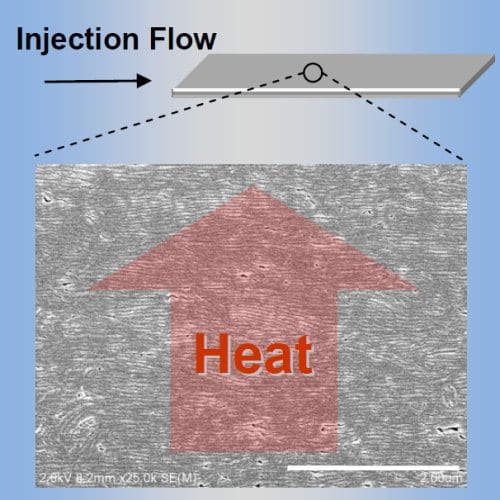 Thermally conductive thermoplastics have attracted attention as heat dissipative materials for a vast number of electronic devices. However, the thermal conductivity (TC) of polymers is very low (0.1–0.5 W m−1 K−1) because of various defects. Even with large concentrations of thermally conductive fillers, it is difficult to enhance the TC of polymer composites. Moreover, a high filler content leads to undesirable weight gain and poor processability. One solution for these issues would be enhancing the TC of polymer matrices. The TC of polymer composites can significantly increase when polymer matrices serve as good heat conductors between filler particles. However, no such thermoplastic matrices have been reported so far.
S. Yoshihara and coworkers (Kaneka Corporation, Japan) now report that thermoplastics exhibit high thermal conductivity by lamellar crystal alignment. They have found smectic liquid crystalline polymers that show a parallel orientation of chain-folding lamellae by shear flow during injection molding. The polymer chains are aligned in normal direction (ND) with respect to the molding surface, thus leading to high TC (1.2 W m−1 K−1) in this direction. Furthermore, the composites containing plate-shaped filler particles exhibit a dramatic enhancement of TC in not only the ND but also the in-plane direction.
This technique enables producing polymer materials with high TCs without a high filler content. This leads to more lightweight composites with good processability. For this strategy, no special equipment is required, and an injection molding process is suitable. Therefore, this approach can be readily scaled up for various applications.