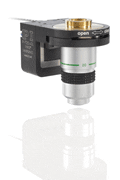 In microscopy, a fast and simultaneously precise motion of the Z axis is required for different tasks, e.g. for autofocus systems, surface analysis, screening tasks, wafer inspection, or multi-photon spectroscopy.  Fast scans in the Z direction for three-dimensional tasks have the same requirements in respect to precision and speed.  Piezo drives are well suited for such tasks, regardless of whether the objective, the complete turret or the sample is to be positioned.
The PIFOC® Z drives from PI can be constructed to be very small and stiff. They react, therefore, with short response times and due to good guiding they position very precisely even when positioning on long travel ranges of up to 100 or even 400 µm. The zero-play and high-precision flexure guide ensures a high focus stability. Fine positioning can be done in the sub-nanometer range. The settling time of less than 10 ms increases the throughput and enables fast scanning of Z stacks. Piezo drives achieve very high linearities of 0.06% when combined with direct metrology, capacitive sensors, and digital controllers.
Easy Integration with Thread Adapter
The PIFOC® Z drives are practically integrated in the microscope: The drives can be easily inserted between the objective and the revolving nosepiece with a thread adapter. After the adapter is screwed into the revolving nosepiece, the drive is then fastened in the desired direction. Since the objective positioner does not have to be rotated itself, the cable routing is unproblematic. For applications that require a particularly large clear optic aperture, there is a version with a 29 mm clear aperture (opening for the light beams) in the threaded insert.
Well-known for the high quality of its products, PI has been one of the leading players in the global market for precision positioning technology for many years. PI has been developing and manufacturing standard and OEM products with piezo or motor drives for 40 years now. With four German factories and ten subsidiaries and sales offices abroad, the PI group is represented internationally.
Further product information  German / English
Download product brochure
Furter information about drive technology for microscopes German / English
Physik Instrumente (PI) GmbH & Co. KG
Auf der Römerstrasse 1
76228 Karlsruhe, Germany
Phone: +49 721 4846-1810
Fax: +49 721 4846-1019
mailto: [email protected]
www.pi.ws