Pharmacogenomics (PGx) is the study of how genetic variation affects a patient's response to medication. Genetic variation plays a role in drug response in two main ways – affecting how the medication works, or efficacy, and affecting whether the medication causes adverse events, or toxicity. The field of pharmacogenomics is rapidly expanding into the clinical setting, with the hope that it assists doctors in prescribing the right dose and type of medication to their patients.
The Pharmacogenomics Knowledgebase (PharmGKB; www.pharmgkb.org) is a publicly available resource funded by the National Institutes of Health (NIH) National Institute of General Medical Sciences (NIGMS). Founded in 2000, PharmGKB is the preeminent worldwide resource for PGx information, and has been heavily involved in advancing the field through its creation and maintenance of a PGx knowledgebase.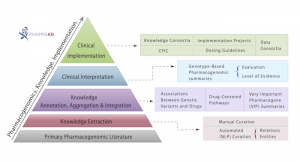 In an Open Access Advanced Review published in WIREs Systems Biology and Medicine, Teri E. Klein and co-workers provide an overview of PharmGKB, discussing the various types of information available on the website. The review also includes background information on PGx.
PharmGKB contains a wealth of information that is useful and relevant to everyone from citizens to clinicians to researchers. The website was recently updated to provide a more user-friendly and adaptable experience.
Individuals visiting PharmGKB can find information such as detailed illustrated pathways showing the metabolism or mechanism of action of over 100 medications, annotated drug labels with PGx information from the U.S. Food and Drug Administration (FDA), and dosing guidelines on how to adjust treatment of medications based on PGx from outside organizations such as the Clinical Pharmacogenomics Implementation Consortium (CPIC; cpicpgx.org). Users new to PGx can learn more about basic pharmacogenomics and how to explore the website, while PGx researchers can browse and download PharmGKB's extensive collection of gene-drug interaction data.
Kindly contributed by the Authors.