Oxford Instruments has launched a new high performance spectrometer 'Foundry-Master Xline'. As The UK based company told it is easy to handle and accurate and specifically designed to meet the needs of the metals and steel markets. It is competitively priced and offers outstanding performance and practical features usually only found with premium class instruments.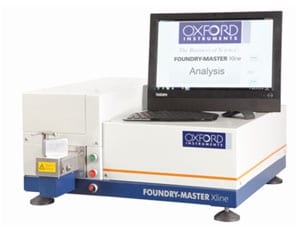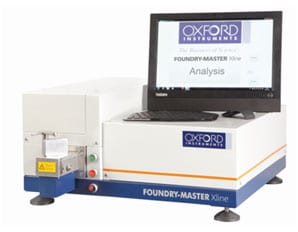 The new spectrometer is used for quantitative element analysis of metal samples and is designed as a benchtop unit. The high-resolution Multi-CCD optics is equipped with a vacuum chamber in order to cover the complete wavelength range from 165 nm to 780 nm, offering precise detection of all relevant elements in Fe and other matrices.
The Jet-Stream-Technology within the sample stand, which is open on three sides, offers the ability to measure almost any size or shape of sample, particularly large or irregular sample geometries. Additionally, the sample does not need to completely seal the spark stand opening. Tubes, bars and even wires can be analysed directly, using only one universal adapter. This reduces the sample preparation time. The newly developed fully digital source (spark generator) is controlled via the external Windows PC and offers excitation parameters.
Furthermore Oxford Instruments reports that argon consumption is reduced to a minimum, saving a considerable amount of operating expenses. The cleaning process is fast and instrument recovery efficient due to pre-aligned parts and quick connectors. The rugged and approved vacuum technology is essentially maintenance-free and has significantly lower operating costs than alternative inert gas purged systems.