Advanced Materials Interfaces began in 2014 as a forum for top-level research into interface and surface science. In this short time, it has already attracted many important, highly interdisciplinary contributions from recognized experts.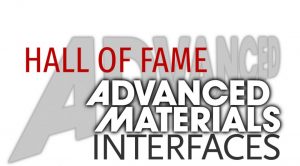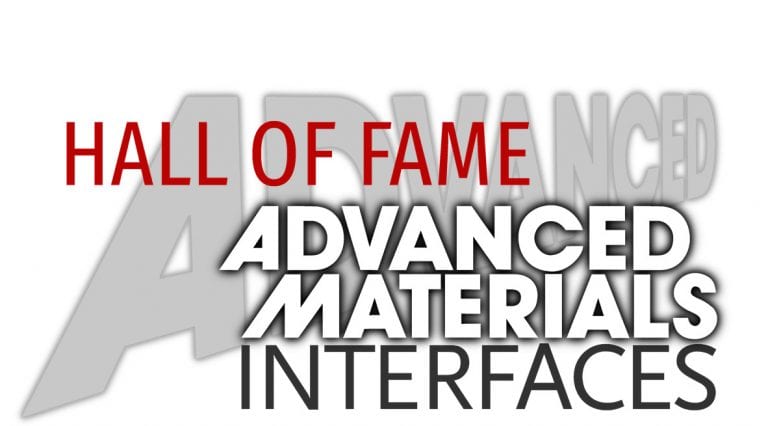 To build on this and to celebrate our 5th volume, we have initiated a series of invited-only review articles from the top scientists in the field: the AMI 'Hall of Fame'. These articles will be collected into a very special virtual issue, and will be updated regularly as new contributions are published. All articles in the series will be made freely available to all for a limited time.
Keep an eye out for the 'Hall of Fame' logo on upcoming review articles, or bookmark the virtual issue page to stay on top of the latest critical works in this series.
In this monthly feature, we highlight the most recent papers which are published as part of Advanced Materials Interfaces "Hall of Fame".
Interface Engineering of Carbon‐Based Nanocomposites for Advanced Electrochemical Energy Storage
By Yeru Liang, Weicai Zhang, Dingcai Wu, Qing‐Qing Ni and Ming Qiu Zhang
An overview of the design principles and the important roles of interface of carbon‐based nanocomposites in electrochemical energy storage applications is presented in this article. Selected examples of various typical interfacial interactions and their synergistic effects on electrochemical performance are discussed.
3D Graphene Composites for Efficient Electrochemical Energy Storage
By Fanxing Bu, Imran Shakir and Yuxi Xu
With highly continuous graphene network, hierarchically interconnected porous channels, and robust mechanical strength, 3D graphene (3DG) composites hold great potential for high‐performance electrochemical energy storage devices. In this review, recent progress on preparation strategies of 3DG composites and their applications in electrochemical energy storage are discussed, followed by a brief perspective on future opportunities and challenges.
Holographic Fabrication of 3D Nanostructures
By Taeyoon Jeon, Dong‐Ho Kim and Sung‐Gyu Park
Holographic lithography is a powerful technique for fabricating uniform 3D nanostructures over large areas. By controlling the wavevector, polarization, and phase, a variety of 3D nanostructures may be generated using a single laser exposure. The high surface area, porosity, and periodicity of 3D nanostructures render them useful as energy storage electrodes and optical and mechanical sensors.
Recent Progress in Durable and Self‐Healing Super‐Nonwettable Fabrics
By Hua Zhou, Hongxia Wang, Haitao Niu and Tong Lin
Super‐nonwettable fabrics have drawn great attention for both fundamental research and practical applications. A variety of fabrication strategies and approaches have been reported in the last decades. This report summarizes the recent progress in durable self‐healing super‐nonwettable fabrics. A perspective is also introduced on future development in this field.