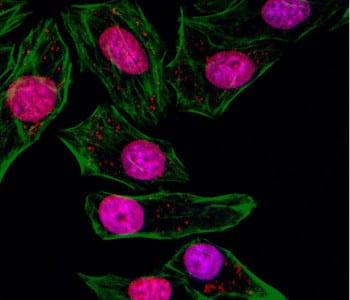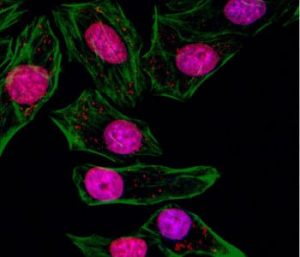 Both angiogenesis and cancer cell proliferation are main features of tumor tissue. Current strategies combining antiangiogenic drugs with chemotherapy provide clinical benefit in cancer patients. However, most combination treatment strategies are based on small-molecule drugs, resulting in various significant and undesirable side effects.
Endostar is amodified and recombinant human endostatin, with an additional nine-amino acid sequence at the N-terminal of the protein to help with protein purification, solubility, activity, and stability. It has been approved by the China Food and Drug Administration for the treatment of non-small-cell lung cancer, and investigations of its use in other types of cancer, including breast, colon, and pancreatic cancers are currently in progress.
Doxorubicin (DOX), an amphiphilic anticancer drug, is a leading clinically used anticancer drug due to its potency and broad spectrum of activity against diverse cancer types. Despite sustained effort over the years, the development of easily synthesized, economical, water-soluble, and biocompatible drug delivery systems with efficient DOX encapsulation is still highly desirable. Carboxymethylcellulose (CMC), as a commercially available derivative of cellulose, finds widespread use in biomaterials, pharmaceutical formulation, and food. Due to its excellent biocompatibility, CMC has been approved by the United States Food and Drug Administration (FDA) for parenteraluse in drug products such as Sandostatin, Sandolog, and Vivitrol, and is known to be bioeliminable.
Now, in new research published in Advanced Healthcare Materials, Xuesi Chen and co-workers from the Changchun Institute of Applied Chemistry explore the potential of combining chemotherapy with antiangiogenic therapy, based on doxorubicin-loaded OEGylated CMC nanoparticles and endostar, for the treatment of non-small-cell lung cancer.
A significant advantage of this approach is that the doxorubicin-loading procedure can be carried out efficiently (nearly 100%) in aqueous medium without the use of toxic reagents or organic solvents, thus representing a green chemistry approach. As compared to free doxorubicin, the resulting nanoparticles showed not only favourable stability in vitro, but also prolonged blood circulation, improved safety and tolerability, optimized biodistribution, reduced systemic toxicity and enhanced antitumor efficacy in vivo, indicating a potential utility in cancer chemotherapy. The system also allows combination therapy drug scheduling to be adjusted flexibly.
Importantly, this combinational chemotherapy and antiangiogenic therapy strategy demonstrates remarkably synergistic antitumor and antiangiogenesis effects for the treatment of non-small-cell lung cancer. Since the chemotherapeutic drug doxorubicin and antiangiogenic drug endostar have been widely used in clinical applications, and carboxymethylcellulose has been approved by FDA for parenteral use, this novel synergistic combination has great potential to be used in the clinic for combination therapy in non-small-cell lung cancer and other solid cancers