Recently, the Germany based company Trumpf presented novel laser systems for the use in metalworking. The new TruLaser Cell 3000, a 5-axis machine has a wide array of skills for cutting and welding all kinds of components in a 2D or 3D situation, as the company reports. Its range of use extends from fine and delicate cutting up to welding sheet metal several millimeters thick with high precision. This makes the equipment attractive for numerous fields – from job shops and automotive subcontractors through to makers of medical technology. Thanks to its solid-state laser, this unit is also suitable for working nonferrous metals.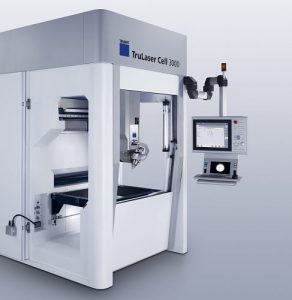 The 5-axis machine with a TruDisk laser generates four kilowatts of power. This machine can work with the TruFiber, TruDiode or TruPulse solid-state laser, as desired. Up to eight kilowatts of laser power can be fed to the machine. According to Trumpf, variable beam shaping makes machining metals easy, since the focal position can be matched effortlessly to the thickness of the sheet metal being worked.
It is also possible to expand the diameter of the focus to four times the diameter of the optical fiber in the waveguide. This offers advantages especially during welding operations and significantly reduces non-productive periods. In spite of its versatility, the TruLaser Cell 3000 requires only a minimum of space. The switchgear cabinet, the cooling system and the optics are all integrated into the system. The machine's case, made of cast stone, helps damp vibrations and is resistant to temperature changes, so that the unit works even under most arduous manufacturing conditions.
The TruLaser Station 3003 system is suitable for use in combination with the Trumpf TruPulse laser to weld temperature-sensitive components. One typical use is for spot welding. There, components are joined by discrete welds to form complete assemblies. This process keeps heat input low and thus minimizes warping. To do this the TruPulse lasers elevate their mean output briefly and use the time while the workpiece is being moved to recharge the energy accumulator. As the company explains, it results in a reduced welding period and, in turn, a shorter processing cycle.
The time-tested TruMark Station 5000 is made for applying annealed markings and for engraving stainless steel. The laser system offers an axis traversing range of 300 x 300 x 500 millimeters and thus provides sufficient space for many kinds of marking and for large batches. The integrated air extraction system is also advantageous for marking tasks such as engraving, where a considerable amount of material is removed. The design, following human engineering precepts, permits loading and removal at the correct working height and in the shortest possible time, pledges the company.
Vastly different is the 2D TruLaser 8000 cutting unit. This mega-machine can work sheet metal up to 16 meters in length and is available right now, with many new functions.
Photos: TRUMPF Group