Gentle low temperature vacuum drying and storage of micro-organisms or active pharmaceutical components is particularly applied in the food and pharmaceutical industry. Thanks to this process, unstable substances can be dried at moderate temperatures above zero without causing too much damage to the cell structure.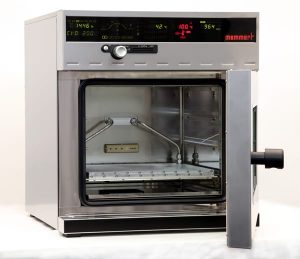 As the first manufacturer worldwide, Memmert has developed a cooled vacuum oven. With more than 150 employees at two locations in Germany the company develops and manufactures laboratory appliances. The product range includes devices for industrial material and component testing or biological, chemical and food research.
Low temperature vacuum drying on a laboratory scale is applied among other things during the drying of bacteria and starter cultures. As the company reports, the new cooled vacuum oven called VOcool can be additionally deployed to easily and cost-effectively simulate storage and transport of pharmaceutical products during intercontinental flights.
The cooled vacuum oven with its interior volume of 29 liters has a temperature range of +5°C to +90°. For cooling purposes, a compact, energy-saving and very precise Peltier cooling unit was integrated. This way, the cooled vacuum oven from Memmert achieves a surface temperature distribution over its entire temperature range with a deviation of maximum +/-1 K.